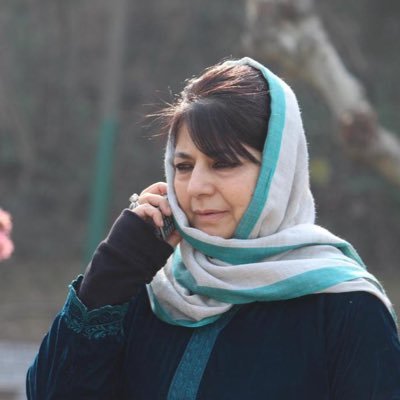 Srinagar, Dec 23:Peoples Democratic Party (PDP) president Mehbooba Mufti Wednesday accused the Government of India and BJP of "terrorizing her family" in the name of investigations stating that BJP must fight her political and not involve her family, friends and party colleagues in the "battle."
Addressing a press conference at her Gupkar residence, Mehbooba said that today's press conference may be her last one given the BJP's approach and the way agencies like "CBI, NIA and ED are being used against her."
"Irony is that these agencies that are supposed to probe cases of sensitive order are probing wherefrom PDP got money for Late Mufti Muhammad Sayeed's graveyard at Anantnag. Not just this, they are investigating my mother's bank accounts and have sought property details of my sister, who is a doctor by profession," the PDP chief said.
In an obvious reference to BJP, she said that GoI should fight her politically. "BJP won't gain anything by using agencies against me. If they want to face me, they should fight me politically," she said.
She said BJP should not involve her family members, party colleagues and friends into the "battle".
"My party colleagues have been detained for no charges. I tried to find out whether there was any arrest warrant against Sartaj Madani and others but there is none," she said.
Similarly, she said that PDP youth president, who emerged victorious with huge margin in DDC polls, was arrested by the NIA. "He was tortured to accept the militant links which ultimately would connect me one or the other way, but they failed," she said.
Mehbooba said that PAGD has won maximum seats in J&K and that "it's a people's verdict against revocation of article 370."  "PDP alone has bagged 30 seats. BJP used to say that PDP doesn't exist anymore. But today's verdict is an eye-opener for the BJP," she said. The PDP chief said that BJP's carrot and stick policy won't do and that "people will resist all such moves." She said that the way BJP was defeated in DDC polls in Kashmir, Assembly polls won't be held in near future and would be further delayed—(KNO)