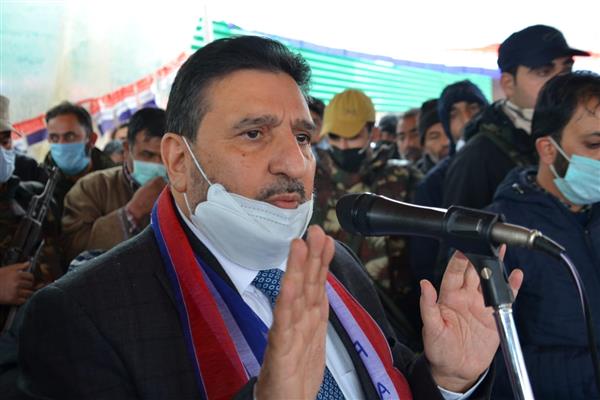 Pattan, Dec 14: Apni Party President Syed Altaf Bukhari on Monday said that soon after delimitation is over, elections for Lagislative Assembly will be held as promised by Union Home Minister Amit Shah.
Talking to reporters on the sidelines of workers convention in Gund Pattan in north Kashmir's Baramulla, Bukhari maintained that the process of delimitation is underway and JKAP will submit its representation before the committee to increase number of seats in Valley.
"Delimitation commission works under set norms. JKAP will submit its representation and try to ensure increase of seats in Kashmir valley", he said.
He claimed that once the process of delimitation ends, the Government of India will ensure elections for Sate Lagislative Assembly within three-months. He said the Union Home Minister Amit Shah had promised it and we hope he will fulfil his promise without delaying the process further.
"Today I took stock of the issues facing by people at grassroots level. Successive governments had laid pipes in adjoining villages but there is not a single drop of water", Bukhari added.
He said DDC polls are aimed to ensure development on ground and it has nothing to do with tempering with political or law making matters. "Neither DDC polls nor Assembly elections can reverse the decisions taken on August 5, 2019", he said. Bukhari was replying to a query over restoration of special status to Jammu and Kashmir under Article 370 and 35(A) by signatories of PAGD.
Bukhari at the occasion appealed people to venture out on poll day and cast their ballots in favor of Kaneez Fatima, the JKAP candidate fighting ongoing DDC polls from Pattan territorial seat.
He continued that bringing statehood back to J&K is JKAP's core agenda, besides protection of land and job rights. He said it is premature to say who will give clean sweep in ongoing polls. "I can't say who will give clean sweep. Our party is nine-months old and people should expect from us what they expect from nine-month old baby", Bukhari added.
To a query, he said that gone are those days when people were forced to boycott elections by coercive measures. "People understood the vitality of ballots. They know it is their power to ensure development", Bukhari added. (KNS)