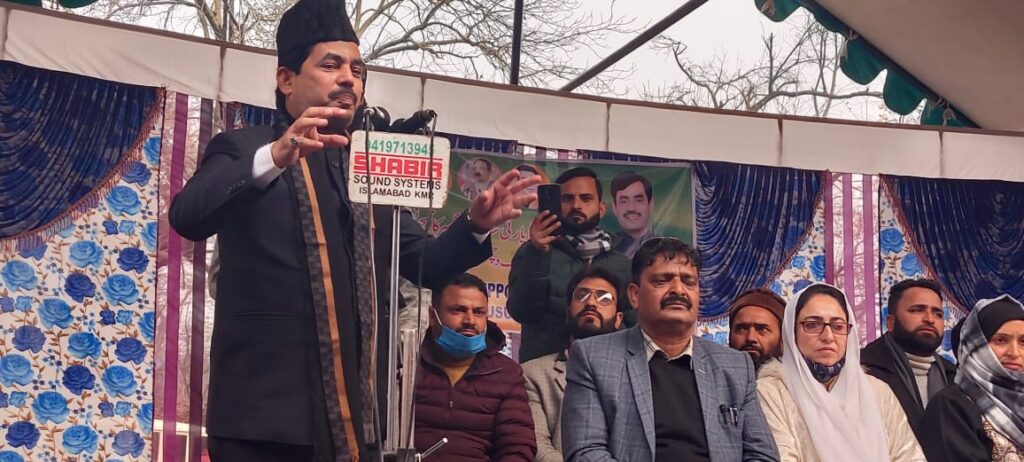 Srinagar, December 6:  A Delegation of House Owners, Hoteliers, Traders, Shopkeepers and Farmers of Kashmir met with Tarun Chugh (General Secretary BJP), Shahnawaz Hussain (National Spokesperson BJP) and Ashok Koul (General Secretary BJP-J&K) to seek relief in Land lease, Roshni land issue, SARFASI Act.
According to a statement,, the delegation meet the leadership of BJP to express dismay over the recent judgment of Hon`ble High Court regarding land lease and Roshni Land Scheme.
The delegation put across the BJP Leadership that the people of J&K after August 5, 2019 was waiting for "the dawn of a new era, which the Prime Minister promised on August 8, 2019 but the recent High Court orders for Roshni Land Scheme and Land Lease and implementation of SARFAESI Act are bleeding us and are inflicting more wounds to the Bussiness Sector of J&K.
The delegation stated that these Order could impact lakhs of families as the Entreprenurs and House Owners who are legally in possession of the land under Land Lease and Roshni Land Scheme from several years and have invested for business units to generate employment and livelihood for the people of J&K, it was told that the government has snowballed into a major issue if not addressed and resolved will emerge as Wave for Survival and Dignity and it is imperative for the government either bring an ordinance or resolve this matter on priority."
The BJP leadership was told that the selling and buying of land under the Roshni Act was verified and approved by the revenue department concerned, led by revenue inspectors and first class executive magistrates and it was the government, first of all, which asked people to file an application and pay a certain fee to become land owners. The fees were paid as per government norms and the property was regularized in the hands of the owner.
Now after 20 years when all our hard-earned money was used to establish our houses, hotels, shops and orchards and now how can the Government Issue such orders, statement reads.
The delegation informed the BJP Leadership that like any other scheme announced by Government the Roshni Land Scheme was availed by people to generate employment and Livelihood, statement reads, "The people of J&K constructed infrastructure for employment generation and Lakhs of people are directly or indirectly connected with these establishments as a source of Livelihood. The Policies of the past governments have largely failed to address our business grievances including negligence of renewal of lease agreements and now the present decisions taken for Land Lease and Roshni Land Scheme and implementation of SARFAESI has deeply harassed and victimized the people of J&K."
The Stake holders comprising of House owners, Farmers, Hoteliers, Shopkeepers of Srinagar, Pahalgam and Gulmarg fervently hope and appeal to the BJP Leadership for an early, honorable and negotiable solution for this vexed issue of lease renewals and Implementation of SARFAESI act also the Delegation urged upon the BJP Leadership for initiating a dialogue for lease renewals and resolving the Roshni Land Scheme, as it is only through a consistent and an open interaction, the Livelihood of Lakhs of People involved will be protected.
Talking to media persons after the meeting, the delegation said, "We are satisfied after meeting BJP Leadership as they assured us of support and help to redress the issue of Roshni Land Scheme and Land Leasees including implementation of SARFAESI act.