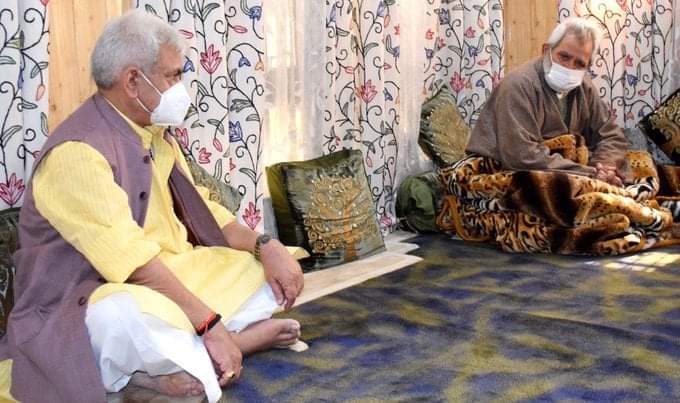 Srinagar, Oct 01: Lieutenant Governor J&K Manoj Sinha on Thursday visited the residence of Advocate Babar Qadri who was killed by unknown gunmen on September 24, 2020 at his residence.
LG Sinha met the family members of slain Qadri in Hawal Srinagar. He spoke to Babar's father Mohammad Yaseen Qadri, his brother Zafar Qadri and other family members and expressed his condolences.
As per reports, LG Sinha assured the family of Babar Qadri all possible support from the Government and said those perpetrated the heinous crime of killing young and energetic Advocate must be taken into task.
LG was accompanied by Director General of Policed (DGP) Dilbagh Singh, Inspector General of Police (IGP) Kashmir Zone Vijay Kumar, Senior Superintend of Police (SSP) Srinagar Dr Haseeb Mughal and other police officials. (KNS)