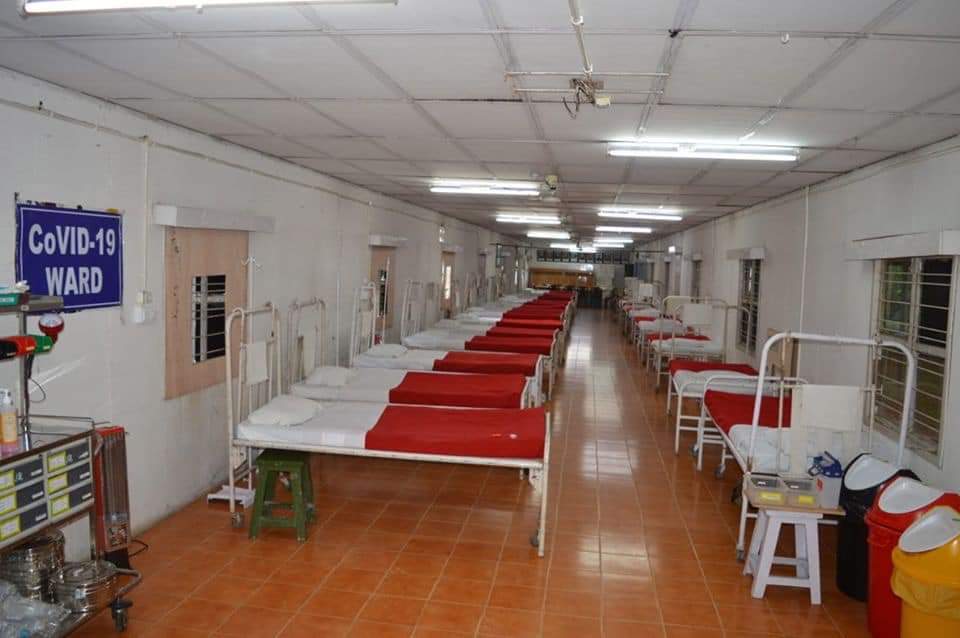 Srinagar, Sep 12: Jammu and Kashmir reported the highest ever single day spike of 1,698 cases of Covid-19 pandemic including 135 travelers taking the total number of positive cases to 52,410 in the Union Territory.
Today's spike is the highest ever since the outbreak of pandemic in March this year. Of the total 52,410 cases, 35,897 are from Kashmir and 16,513 from Jammu division.
Officials said among 1,698 new cases, 860 belong to Kashmir division while as 838 are from Jammu division, adding that the total number of positive cases in Kashmir division have reached to 35,897 including 27,492 recoveries while as total number of positive cases in Jammu division have reached to 16,513 including 7,793 recoveries and 143 deaths.
The officials said that total number of active cases in Jammu and Kashmir are 16,261 including 7,684 from Kashmir division and 8,577 from Jammu division.
With 596 more recoveries, the tally of total recoveries in Jammu and Kashmir has reached to 35,285 which is 67.32 percent of the total cases which was over 78 percent few day before.
Notably, ist time since covid-19 outbreak, active cases have reached over sixteen thousand in J&K and active cases in Jammu division are more than recovered cases.
"Cases tested positive in J&K include 255 from Srinagar, 123 from Budgam, 82 from Baramulla, 50 from Pulwama, 45 from Anantnag, 108 from Kupwara, 82 from Bandipora, 10 from Kulgam, 45 from Ganderbal and 69 from Shopian in Kashmir division while as 838 from Jammu division include 250 from Jammu, 103 from Udhampur, 83 from Rajouri , 42 from Kuthua, 58 from Samba, 93 from Poonch, 31 from Ramban, 67 from Doda, 33 from Reasi and 78 from Kishtiwar," officials disclosed.
As per officials figures, 11,489 positive cases including 248 deaths and 9,329 recoveries are from Srinagar, 3,580 including 70 deaths and 2,284 recoveries are from Budgam, 3,399 including 2,414 recoveries and 112 deaths are from Baramulla, 3,119 including 2,620 recoveries and 60 deaths are from Pulwama, 2,848 including 53 deaths and 2,119 recoveries are from Anantnag, 2,784 including 1,788 recoveries and 56 deaths are from Kupwara, 2,710 cases including 1,886 and 28 deaths are from Bandipora, 2,069 including 1,903 recoveries and 40 deaths are from Kulgam, 2,025 including 1,461 recoveries and 25 deaths are from Ganderbal and 1,865 including 1,688 recoveries and 29 deaths are from Ganderbal.
In Jammu division, 7,947 including 2,604 recoveries and 85 deaths are from Jammu district, 1,398 including 815 recoveries and 4 deaths are from Udhampur, 1,364 including 825 recoveries and 15 deaths are from Rajouri, 1,285 including 870 recoveries and 15 deaths are from Kathua, 1037 including 620 recoveries and 08 deaths are from Samba, 489 including 400 recoveries and 06 deaths are from Poonch, 503 including 653 recoveries and 01 death is from Ramban, 481 including 394 recoveries and 09 deaths are from Doda, 570 including 355 recoveries and 03 deaths are from Reasi and 565 including 354 recoveries and 01 death are from Kishtwar.
As per the daily information bulletin, 515,897 persons in Jammu and Kashmir are under observation while 42,414 persons have been kept under home quarantine besides that 16,261 persons are in isolation.
According to the bulletin, 403,268 persons have completed surveillance period and 53,090 persons are under home surveillance besides that so far results of 1,203,799 samples are available.
Out of 1,203,799 the number of samples tested negative stands at 1,151,389 while 52,410 have tested positive, among them 16,261 are active and 35,285 persons have recovered.