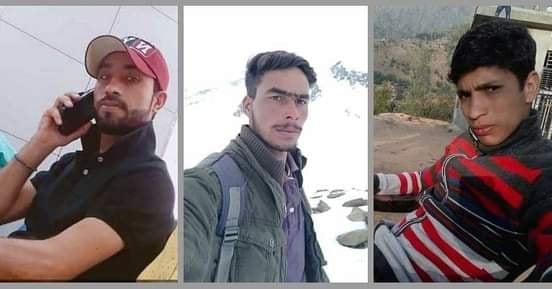 Srinagar, Aug 10: Three families from Rajouri have approached police for help in tracing three persons who according to them have gone missing in Kashmir.
The photographs of these three persons are viral and they are subject of discussion.
Talking to news agency Kashmir News Trust Muhammad Naseeb, a relative of one of the missing youth said that they have lodged a missing report and police have assured them all possible help in tracing them.
"We are disturbed as it is being claimed that these three persons have been killed in South Kashmir's Shopian district in an encounter. We hope this news turns fake and they are alive," he said.
Those who have gone missing are 18 year old Abrar Ahmed Khan son of Bagha Khan, 26 year old Imtiyaz Hussain son of Sabir Hussain, both residents of Dhar Sakri of Tehsil Qotranka of Rajouri and 21 year old Abrar Ahmed son of Muhammad Yousuf of Tarkasi village of same Tehsil.
When asked why they were not in contact with missing persons and why they remembered them after 22 days, he said they live an area where phone connectivity is very poor. "We thought there is poor connectivity in Kashmir and were waiting these people will make a call. As they didn't the families tried to contact them, but their cell phones were switched off," Muhammad Naseeb said.
Zafar Chowdary, a Journalist in a tweet claimed that: "The three boys killed in Amshipora were in my distant relation. I have just spoken to family, they've identified them beyond any doubt. They don't remember the exact date of speaking to them last but say the news of death came on 22nd day of losing contact with them."
Senior Journalist Ahmed Ali Fayaaz in a tweet said: All three "suspected militants" killed in Amshipora Shopian 'encounter' on 18 July 2020, have been reportedly identified as the missing labourers of Rajouri on basis of photographs by the families. If true, first such case after killing of 3 Nadihal civilians in Kupwara in 2010."
In response to this tweet, Iltija Mufti, the daughter of former Chief Minister of Jammu and Kashmir Mehbooba Mufti demanded probe into recent encounters. She tweeted: "Shocked to hear about reports of 3 missing labourers reportedly killed in a staged encounter at Shopian. Armed forces have a free hand to operate with impunity. Explains why bodies are allowed to decompose at unknown locations. Probes into recent encounters must be ordered," Iltija tweeted from her mother's handle.
Meanwhile, Defense Spokesperson Colonel Rajesh Kalia in a WhatsApp text said that: "We have noted social media inputs linked to the operation at Shopian on 18 July 2020. The three Militants killed during the operation have not been identified and the bodies were buried based on established protocols. Army is investigating the matter." (KNT)