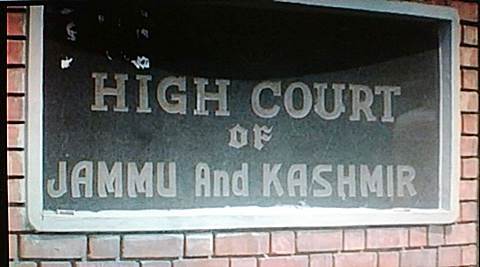 Srinagar, July 17: The J&K High court has constituted a committee headed by Home Secretary to examine poor connectivity issues pertaining to courts in Jammu and Kashmir.
Hearing a Public Interest Litigation, a division bench of Chief Justice Gita Mittal and Justices Sanjay Dhar ordered the constituting of the five-member committee after hearing the Home Secretary Shaleen Kabra.
Besides Kabra as Chairperson, the committee comprises Shahzad Azeem, Registrar (IT), J&K High Court, Abhay Kumar, SIO, NIC, J&K, Sanjeev Tyagi, Nodal Officer, BSNL, J&K and Director, National Institute of Electronics and Information Technology (NIELIT), Jammu or an expert to be nominated by him from NIELIT.
Earlier, pursuant to court's Tuesday order, Shaleen Kabra was present through video conferencing.
The issue of difficulties being faced in e-connectivity in both the Wings of the High Court was discussed.
The Home Secretary has pointed out that there could be many reasons for the poor connectivity. Amongst the reasons, the difficulties in the e-connectivity as pointed out him were leaseline issues; needs of enhancement of lease line bandwidth; optimal utilization of the softwares, distribution of bandwidth amongst different users "which has not been optimally effected."
One more reason suggested by Kabra for poor e-connectivity was possible misuse of the available bandwidth.
"Mr. Kabra has made valuable suggestion that an audit needs to be first undertaken of the facilities which are in existence and which are required to be urgently added," the court said, according to GNS and accordingly ordered the constitution of the committee.
"The Committee shall undertake a proper audit of the facilities before making their report," the court said, adding, "The meetings of the Committee may be held on video conference."
The court said that all information as may be needed for effective assessment by the members of the Committee shall be made available by Shabir Malik, CPC, J&K High Court and Umesh Sharma, Civil Judge (Senior Division), Leave Reserve, High Court of J&K.
"The reports of the Committee shall at the first instance be placed before the Chairperson of IT Committee of the High Court of Jammu &
Kashmir for his consideration," the court said, adding, "Shahzad Azeem, Registrar (IT) shall place the observations of the Chairperson, IT Committee along with the final report before this Court on the next date of hearing (on July 23)."
The court directed all members of the Committee to remain present in court through video conferencing.
On Tuesday, the court had directed the Home Secretary to appear after it "struggled" to conduct online hearings.
"Given the sharp rise in the COVID-19 infections, we have been compelled to strictly enforce the lockdown as has been imposed in large parts of Kashmir Province. As a result, virtual hearings have been necessitated," the court had said, adding, "The access to justice is a fundamental right and cannot be impeded and it has to be ensured to every citizen and courts are required to remain accessible." (GNS)