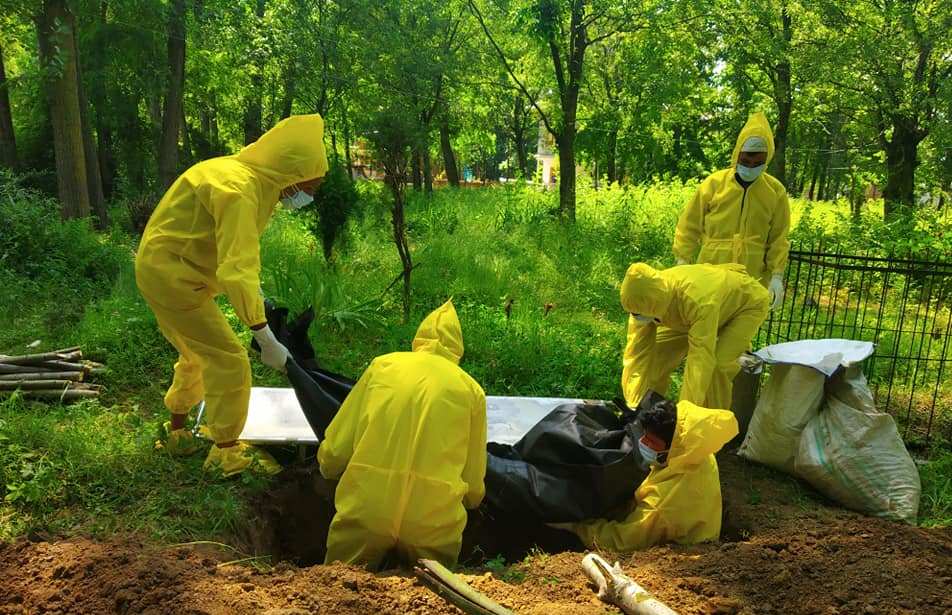 Srinagar, July 17: Nine more patients, who were tested positive for Covid-19 lost their battle to the deadly virus on Friday, taking the total number of people who died of the novel virus in J&K to 231.
Officials informed that nine patients who died include a 65-year-old man from Parigam, Pulwama, a 58-year old male from Alnoor Colony Hyderpora, Srinagar, a 50-year old male from Soibugh, Budgam, a 55-year old woman from Sumbal  Bandipora, a 65-year old male from Pampore Pulwama, a  75-year old man from Batamallo Srinagar, a 62-year old man from Hazratbal Srinagar, a 75-year old woman from Sonwar Srinagar and a 60-year old woman from Taing Mohalla Shopian.
They said that four deaths were reported from SKIMS, two each from Jehlum Valley Medical College (JVC) Bemina and SMHS and one from Chest Disease (CD) hospital.
A doctor from SKIMS Soura said that the elderly patient from Pulwama who was admitted on 14 July died at SKIMS on Thursday evening due to cardiopulmonary arrest. He said that the patient was suffering from bilateral pneumonia and other ailments.
He said that 50-year-old male patient was admitted on July 15 and 55-year-old woman was admitted on 16th July and both died at SKIMS on Friday. Patients were suffering from bilateral pneumonia and other ailments, he said.
A doctor from JVC Bemina said that the patient from Hyderpora who was admitted on 08 July who was on ventilator died at JVC Bemina at 12 am.
He said that the patient was a known case of hypothyroidism and was suffering from bilateral pneumonia with severe ARDS.
Officials said that an elderly man from Pampore had died at SMHS on 13 July and was tested positive on Friday. They said that all remaining deceased persons were having several ailments including pneumonia and hypertension.
With nine more deaths, the death toll in J&K has reached to 231 including 18 from Jammu division and 213 from Kashmir division—(KNO)