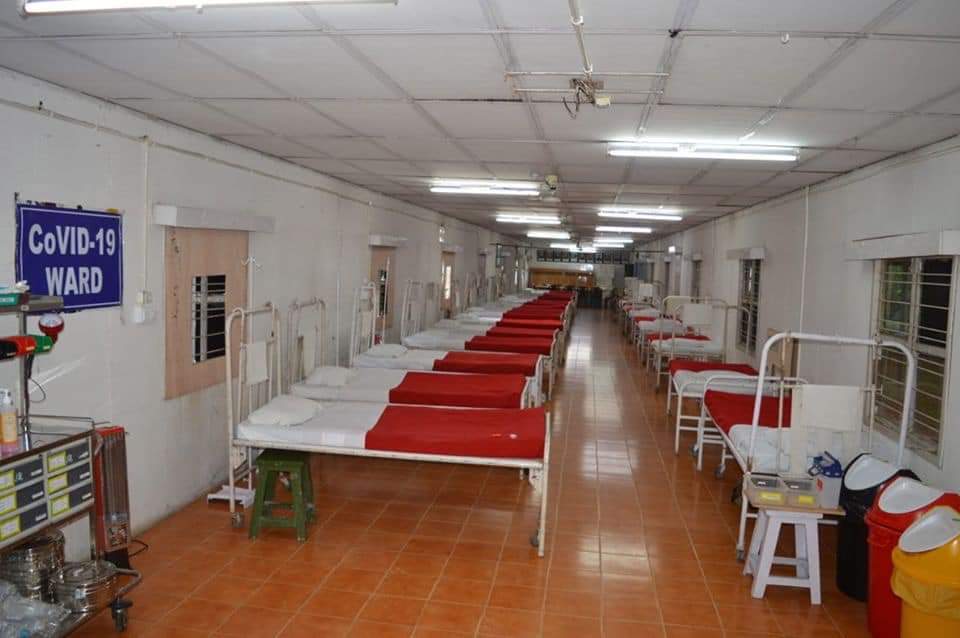 Srinagar, June 24: At least 11 policemen, three CRPF and a BSF personnel were among 186 new coronavirus cases reported in Jammu and Kashmir on Wednesday, taking the number of the covid-19 patients to 6422 in J&K.
Sources said that 37 cases were reported from Baramulla followed by Shopian (35), Srinagar (29), Kupwara (22), Pulwama (19), eight each in Anantnag and Rajouri, Jammu (7), Samba (4), three each in Ganderbal and Udhampur, two each in Bandipora, Kathua, Poonch while one each were reported from Budgam, Doda and Reasi.
Sources said that among the cases, at least 75 were confirmed at SKIMS Soura, 64 at CD and 19 at SKIMS Bemina.
Dr. G H Yatoo, Nodal Officer Coronavirus Control Measures at SKIMS said that out of 2665 samples processed at the viral diagnostic lab today, 75 returned positive for the virus.
Professor Farooq Jan, Medical Superintendent SKIMS Soura, said that 42 are from Shopian, 16 from Pulwama, eight from Anantnag, three each from Srinagar and CRPF Battalions (HMT), two from Bandipora and one from Ganderbal.
The CRPF cases include males (49, 51, 52) from 44 battalion CRPF HMT while Bandipora cases include male (38) from Onagam and female(40) Pazalpora beside Ganderbal case is male (51) from Bamloora, a kargil returnee.
The Pulwama cases include females (28, 40) from Kachipora, male (90) from Draklaran, male(65) from Tral, female (55) Tahab, male (20) from Batmurran, male (29) from Chaidipora and female (75) from Barthipora, besides two men (28, 43) from DPL Pulwama and four men from DPL Awantipora.
The Shopian cases include male (37) from Chandpora, male (21) from Keller, male ( 42) from Chowan, male (45) from Zainapora, female (24) from Chitragam, males (12, 15, 22) from Reshipora, male (20) from Nowpora, male (26) from Mohanpora, four from DPL Shopian (21, 23, 38, 39), female (30) Shamsipora, male (15) from Arahama, male (38) from Nowgam, female (25) Narapora, male (35) from Kralechek, male (32) from from Hermain, male (29) from Darapora, males(28, 30) from Alamgunj, three males ( 55,32, 30) and eight females (26, 55, 60, 20, 18,15, 42, 35,) from Kiloora, female (25) from Khojapora besides female (39) from Cheerammarg.
The cases taken and confirmed from SKIMS include female (29) from Nowgam Srinagar, female (35) from Harwan, and male (40) from Sanatnagar Srinagar. The cases from Anantnag include male (23) from Shangus, male (43) from Ranipora, (female (26) from Badasgam, male (33) from HDFC, male (45) from Charward, male (35) from Adlash, female (45) from Verinag and male (21) from Mirmidan
Dr Riyaz Untoo, Principal SKIMS Bemina, told GNS that out of 580 samples processed at the hospital's lab, 19 tested positive for COVID-19, all from Srinagar.
They include male (12) from Mufti Bagh Harwan, male (73) from Harwan, five from Safakadal's Zadi Masjid—four males (50, 25, 65,30) and female (38) besides male (30) from Safakadal, two females Saidaporaiddgah (22, 26), male (48) from Panthachowk, male (32) from Habakadal, male (64) from Bagi Mehtab, male (31) from Nowshera, female (30) from Daulatabad, female (37) and male (23) from Batmaloo besides male (65) and female (60) from Lasjan.
The CD cases include an BSF soldier from 102 battalion Trehgam and male (31) DPL Ganderbal. (GNS)