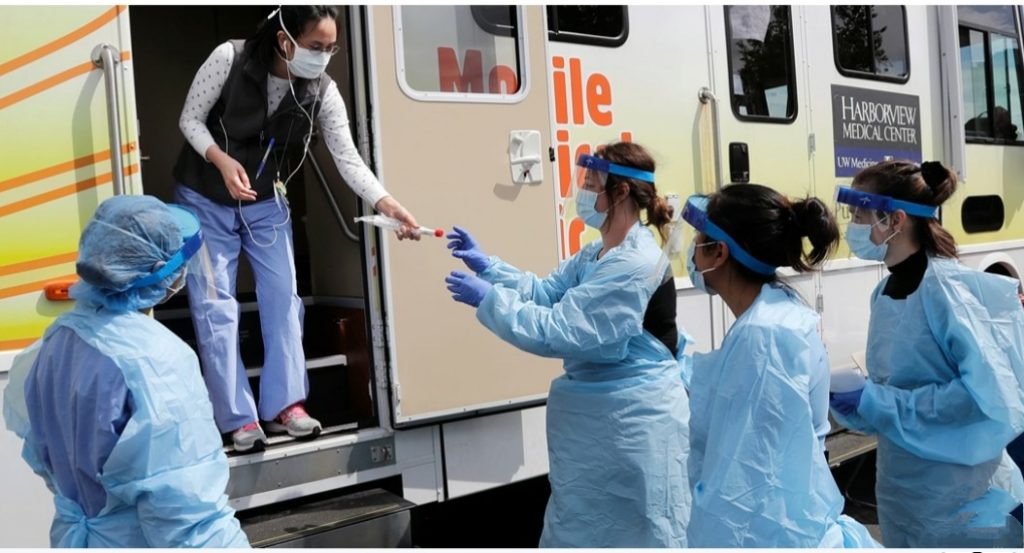 Srinagar, June 6: Jammu and Kashmir reported highest ever 451 new positive cases of novel coronavirus on Saturday.
With these cases, the overall tally of covid-19 patients in J&K has risen to 3775.
51 pregnant women and twelve doctors were among 451 cases of covid-19 reported in Jammu and Kashmir.
They said that among the fresh cases, 253 were confirmed at CD hospital's diagnostic lab and include 51 pregnant women who are residents of Gund, Wussan, Matrgund, Serch, Kangan, Narayan Bagh in Ganderbal district; Gulabagh, Chanapora, Baghwanpora Lal Bazar in Srinagar; Kreeri, Khawajabagh, Tapper, Putha Kreeri, Matipora Pattan, Vizer in Baramulla, Wazirthal Telail, Budugaam in Bandipora district.
Regarding the doctors, they said, their samples were received from CMO Srinagar, SMHS hospital, GB Pant hospital, SDH Kokernag, PHC Mattan. Sources however said that there could be cases that are repeated.
Besides, the cases, there are 50 cases which were reported from SKIMS Soura and five from SKIMS Bemina. In a statement issued here, the government said that Shopian reported 64 cases, Bandipora 14, Bandipora 14, Kathua 11, Jammu 10, Baramulla 9, Udhampur 6, Budgam, Ramban and Rajouri four each, Anantnag, Kulgam, Srinagar and Poonch three each, Samba and Reasi two each while one case was reported from Doda.
According to the daily Media Bulletin on novel Coronavirus (Covid-19), out of total cases, 2301 are active positive while 1126 have recovered and 40 have died.
Additionally, till date 208650 travellers and persons in contact with suspected cases have been enlisted for surveillance which included 42003 persons in home quarantine including facilities operated by government, 53 in Hospital Quarantine, 2302 in hospital isolation and 57045under home surveillance. Besides, 107208 persons have completed their surveillance period.
However, sources said that today's cases revealed by the government did not include those reported from SKIMS Soura and SKIMS Bemina labs as well as the latest cases reported at CD's hospitals diagnostic lab.
Dr. G H Yatoo, Nodal Officer Coronavirus Control Measures at SKIMS, said that out of the 2257 samples processed at the viral diagnostic lab today, 50 returned positive for the virus.
Professor Farooq Jan, Medical Superintendent SKIMS Soura, said that among them, 33 are from Baramulla, five from Srinagar, four from Kupwara, three from Bandipora, two from Pulwama and one each from Kulgam, Anantnag and Budgam.
He said that among the samples received from CMO Srinagar and include 48-year-old man from Lal Bazar, 29-year-old female from Hawala, 8-year-old girl and 15–year-old boy from Hyderpora, 19-year-old teenager from Kupwara, 20-year-old man from Bemina and 23-year-old man from Humhama Budgam.
Regarding samples taken at SKIMS, he said, three returned positive–30-year-old woman from Rafiabad, 85-year-old from Kulgam, and 40–year-old male from CRPF.
Among samples received from CHC Kupwara, he said, the positive cases include 22-year-old and 26-year-old women from Darpora Lolab. Among the samples, received CMC Baramulla, 24 came out to be positive and include residents from Rohama (2), Tengpora Pattan(9), Gulyar (5), Khanpora (5), Heaven (1), Chakloo (1) and Tangmarg (1). Two samples from DH Pulwama which returned positive include 5-year-old girl from Rajpora and 24-year-old from Shadomarg while samples which returned positive from BMO Sopore include 5 from Hatlangoo Baramulla and 10-year-old boy from Nowpora Jagipora Baramulla, 37-year-old from Aadipora Bramulla, 32-year-old man from Seelo Sopore and 29-year-old from Kupwara
Dr Riyaz Untoo, Principal SKIMS Bemina, said that out of the 594 samples processed at the hospital's diagnostic laboratory till 1730 hours, five came out to be positive for the virus, all from Budgam.
Meanwhile, 40 more COVID-19 patients have recovered and discharged from various hospitals and include 15 from Jammu Division and 25 from Kashmir. (GNS)