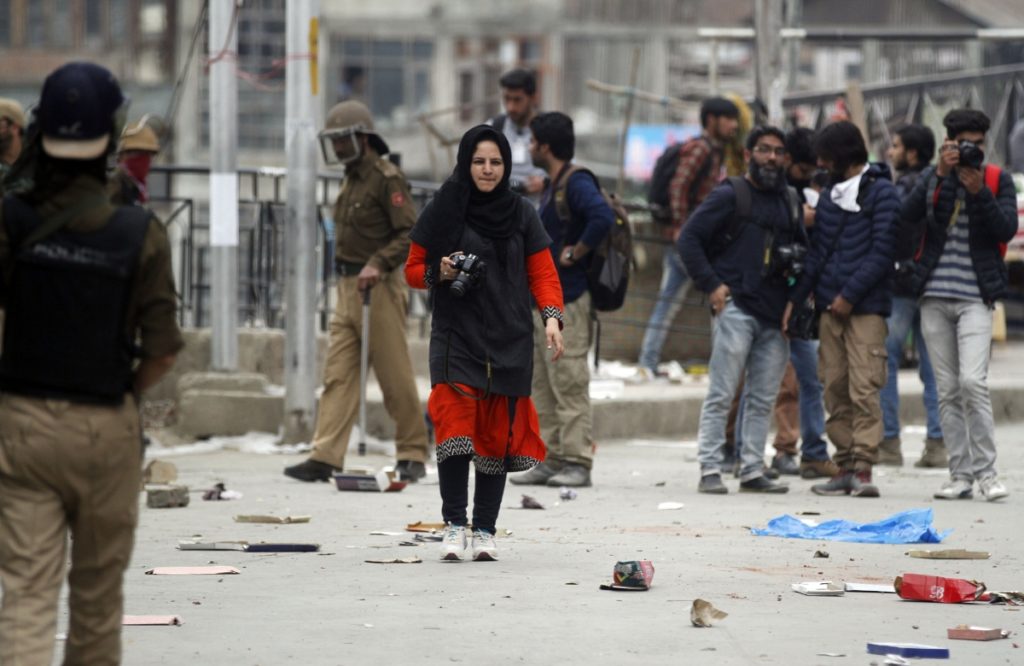 Srinagar, April 20: Jammu and Kashmir police have charged a young Kashmiri female photojournalist under unlawful activities (Prevention) Act for uploading anti-national social media posts.
The police said the posts were uploaded with the criminal "intention to induce the young and to disturb public order".
"Yes, she has been booked for her Facebook posts that glorify militants. Her posts post threat to law and order and spread misinformation," Superintendent of Police (SP) Cyber Cell Kashmir, Tahir Ashraf told news agency—Kashmir News Observer.
The police said the posts of young photojournalist tantamount to "glorify the anti-national activities" and dent the image of "law enforcement agencies," besides causing disaffection against the country".
Police said said that a case under FIR number 10/2020 under section 13 UA(P) act and 505-IPC stands registered with the Cyber Cell of police, Kashmir. Under IPC 505, a person can be booked for two years of rigorous imprisonment.
The police also warned people of strict action if they are found circulating inflammatory content on social media. "General public is advised to refrain from misuse of social media platforms and circulation of unauthenticated information," they said. "Any person found indulging in such activities will be dealt with strictly under law."
While talking to Scroll.in, Zehra said:
"that she was asked to immediately report to the Cyber Police Station in Srinagar on Saturday evening".
"Since there was a lockdown and I didn't have a curfew pass, I told them [the police] that I cannot come immediately," Zahra said. "They pressurised me to come but I didn't go. They didn't mention a first information report."
Zahra told the Scroll.in  that after the call from the police, she approached senior journalists for help.
"I immediately brought the call to the notice of senior journalists and office bearers of Kashmir Press Club," she said. "Later that evening, I got a call from one of the KPC [Kashmir Press Club] members and they told me that the matter has been solved and I didn't need to go. They told me that they have spoken to police higher-ups about the matter."
The journalist said that she did not receive any more calls from the police after that but saw social media posts about the charges against her.
"Early today [Monday] morning, I saw some tweets doing rounds that a woman journalist has been booked under UAPA," she said. "The police didn't call me directly to inform me about the FIR. I came to know about it from my colleagues" Scroll quoted her saying.
Journalist bodies condemn, demand dropping of FIR
The Kashmir Press Club, a representative body of Kashmir journalist and Network for Women in Media (India) have condemned the booking of Masrat and demanded immediate dropping of of FIR against her.