Anantnag: The disproportionate student-teacher ratio in government-run schools in southern district Anantnag is exposing the flawed policies of the government. 
This unequal student-teacher ratio, according to the sources, is spoiling the career of hundreds of poor students studying in these schools with authorities least bothered about balancing the ratio. 
In some schools over a dozen, teachers have been posted to teach less than a hundred students while in others only five to six teachers are teaching 100 to 200 students.
For instance in middle school, Nala Awoora only five teachers are posted for nearly 160 students.
"Out of five teachers, two are engaged as booth level officers by the election department have spent most of the time in election-related meetings and registration of new electorate through out the year. It means that only three teachers have to handle such a huge roll of nine classes," locals told The Kashmir Press. 
Scores of locals and students of the school a few days back held protests and blocked the busy Pahalgam for hours seeking adequate staff for the school so that studies of the students are not affected. Though the authorities following the protests deputed one more teacher to the school but the parents say 'that too is not going to suffice'.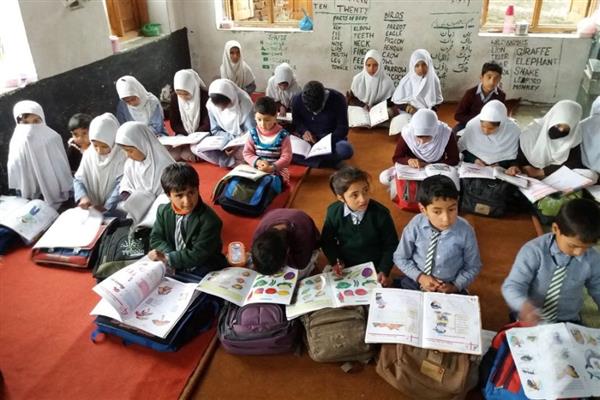 Ironically in the other two middle schools, MS Movura and MS Khelan only six teachers are teaching 165 and 180 students respectively. 
In another school, MS Jarpati only two teachers are teaching 90 students most of whom belong to the unprivileged Gujjar community.
However, in other schools, the teacher-pupil ratio is completely reverse. In government middle school Zaigund Sallar in the same zone, there are three teachers for nine odd students.  
In government high school Hatigam 16 teachers have been posted to teach 80 students. Similarly, in HS Sirhama, there are 14 teachers for just 60 students while as in primary school Danjpora 4 teachers have been posted for just 15 students.
Scores of teachers and sources in the zonal education office (ZEO) accused the zonal education planning officer of creating a mess in the zone.
"Since the zone is with out full-fledged ZEO, it is the ZEPO who is calling the shots. The officer ensured the deployment of his favorites on their choice at the cost of the career of hundreds of poor students enrolled in the schools of the upper belt of the zone," a source at ZEO office said.
Director School Education Kashmir Younis Malik did not respond to repeated calls from The Kashmir Press.