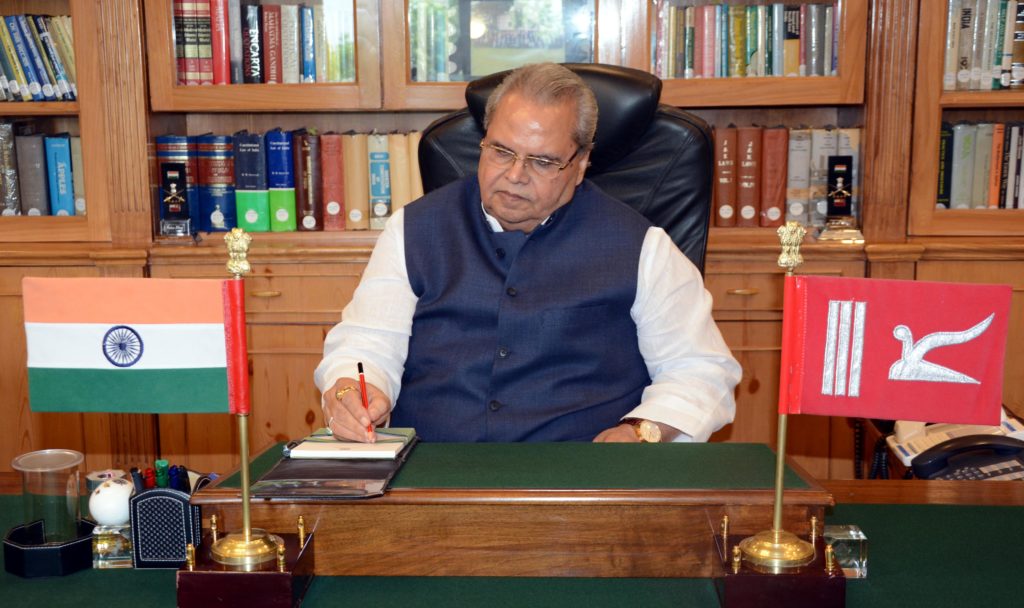 Srinagar: Asserting that his administration has been tough on corruption, Jammu and Kashmir Governor Satya Pal Malik on Wednesday   said the ruling elite were not able to stop corruption in the state as they were themselves involved in it.
'As far as corruption is concerned…. after taking over governance in the state, I cancelled two deals worth Rs 1.5 crore each as I came to know about corrupt practices used to finalize them. The secretaries admitted that corrupt practices were used to finalize these deals and that many powerful people were behind these deals,' Mr Malik said in a press conference here on Wednesday.
He said after learning about discrepancies in J&K Group Mediclaim Insurance Policy for government employees, he asked 'Prime Minister Narendra Modi to either allow him to cancel the deal or accept his resignation'.
The Governor said that he event had to personally meet the Prime Minister and apprise him about the situation.
'I told PM about the issue and asked him to either allow me to cancel the deal or accept my resignation as I didn't want to ruin my image which I have built over a span of 50 years,' he added.
Replying to a question, Mr Malik said that action against J&K Bank was taken after the Reserve Bank of India (RBI) expressed concern over the governance of the bank.
Mr Malik said the Anti-Corruption Bureau (ACB) has been revamped and more powers have been given to the agency to have a freehand against corruption and corrupt people, irrespective of their status or affiliation.
The Governor said that the ruling elite that was involved in corruption in the state would 'face action soon'. 'They will be acted against them soon. If this message goes that no aspirant of a bureaucrat or powerful person will be given preference in recruitment, half of terrorism will end here,' he added.
Mr Malik said around six fact-finding committees in different areas, such as sports, technical education, sports council, macadamisation, dredging and Jammu And Kashmir Projects Construction Corporation, Limited had been set up to act against the corrupt elements through the amended powers granted to the ACB.
'It's unfortunate that the people in J&K are not told the truth. Political parties have exploited them in the name of autonomy and azaadi. Neither autonomy nor azaadi is possible. Now, in the name of janaat [heaven], the youth are being exploited. Kashmir is also heaven, nurture it. The Islamic State ideology has been defeated even where it started,' he said.
However, Mr Malik said that his dispensation was not having any grudge against Jammu and Kashmir's mainstream political parties. 'I had repeatedly asked these local parties not to parrot separatists. I broke protocol and personally met the leaders of two regional parties to persuade them to contest local body and panchayat elections, but all that yielded no result,' he added.
Answering a question about corruption in police department, he said all those police officers who demanded money or other favours from the detained youth have been removed in south Kashmir.