Jammu: Teams of firefighters from Indian Air Force and Army have been roped in to control the devastating fire that broke out on Tuesday morning in timber factory here in Toph Sherkhaniyan area, an official of Fire and Emergency Services said.
He said that they received a message early morning in control room about the fire incident broke out in timber factory opposite Walmart Best Price in Toph Sherkhaniyan.
"At least dozen fire tenders from both South and North stations were pressed into service," he added.
The official said that due to winds, the fire spread quickly, adding, "the firefighters and fire tenders are on job but the fire is still out of control."
The firefighters team from IAF and Army were also pressed into service to control the fire, said a police spokesman and added, "with the help of motors, the water from nearby Ranbir Canal was also pumped and sprinkled at the fire site to douse the flames."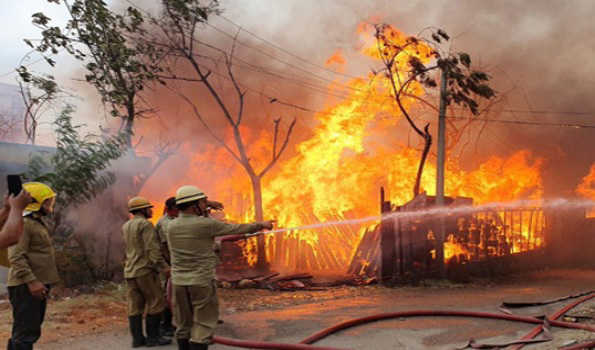 "The fire has engulfed the entire factory," they said adding that the residential houses adjoining the fire site, were vacated for Swift action besides preventive measure.
There is also a long traffic jam along the Jammu-Poonch highway, near the site of fire in incident, they said and added, "so far more than 25 fire tenders have been rushed to the spot while joint teams of firefighters from IAF, Army,Fire and Emergency Services and SDRF are collectively on job to control the fire."
"The flames have reduced but due to winds, the fire has not yet been controlled," they said, adding that as there was wood everywhere around the timber unit, the fire spread fast.
No human injury has been reported so far but loss of property worth lakhs is apprehended. (UNI)