Srinagar: Awami Ittenad Party supremo and former MLA Langate Er Rasheed on Saturday said that even if Indian agents and loyalists like Omar Abdullah and Mehbooba Mufti are tagged as Pakistani agents then he completely fails to understand who is Indian in Kashmir valley.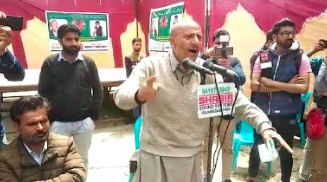 Addressing party workers' convention at Dak Bunglow in Anantnag, he said, "when Narendra Modi led government is tagging their hardcore loyalists like Mehbooba Mufti and Omar Abdullah as Pakistani agents then I don't think there is any Indian in entire valley".
He further said,"Narendra Modi claims that India is progressing but I only see river Jehlum towards which country is catapulting.
"Being largest democracy in the world India should provide opportunity to the people of entire Kashmir including Gilgit & Baltistan to decide on their fate by holding plebiscite."
Rasheed said that Modi has completely failed on all fronts, be it development, unemployment or the core Kashmir issue as is visible from the present scenario of the country. "It is only by virtue of Modi's false promises and communal policies that country is going through such a worst phase."