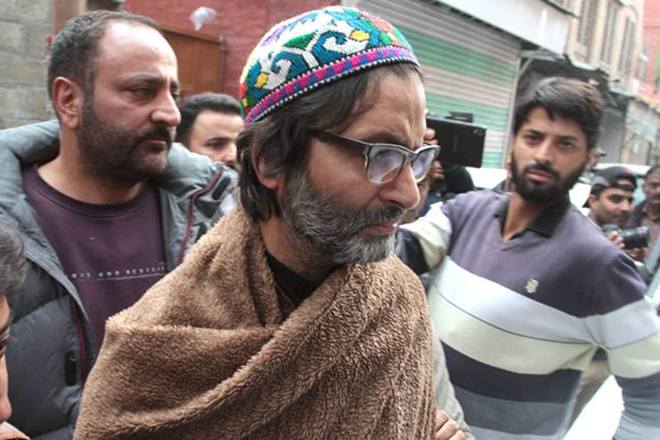 Srinagar: Jammu and Kashmir Liberation Front (JKLF) chairman Muhammad Yasin Malik has been shifted to hospital following his hunger strike in Delhi for almost two weeks now, his family said on Saturday.
Thye said that they were told by the authorities in Delhi, were they had gone to meet him, that he has begun hunger strike.
"It's twelve days since he is on hunger strike and has been shifted to hospital in critical conditions," they said.  "We have been told that he has been shifted to medical facility in critical conditions were he has rejected to take medicines as well.
As soon as the news spread, all the shops in Maisuma downed their shutters as mark of protest against deteriorating health condition of Malik.
Meanwhile JKLF in a press statement said the party chief Malik, who is in NIA custody in Tihar jail, is seriously ill.
The JKLF spokesman Rafiq Ahmad Dar said that Malik has been hospitalised in view of his deteriorating health in Delhi's Ram Manohar Lohia hospital.
Spokesman said that Malik's counsel Advocate Sumil Koul, who was scheduled to meet Malik today on the directions of Delhi court,  was yesterday night contacted and informed by NIA officials that the proposed meeting has been cancelled.
"However, today in the morning he was again contacted by the officials and asked to come to the Ram Lohia hospital where he saw Yasin Malik on hunger strike and in a very serious condition," he said.
The spokesman while quoting JKLF chief's lawyer said that Yasin Malik had started the hunger strike against the "callous approach" of NIA on April 10,  the next day when he was shifted to New Delhi and handed over to the counter-terror agency.
"Not bothering to inform his family and denying basic rights to a detained leader is highly undemocratic and violation of human rights," Dar said. Appealing international, regional and local human rights' organisations to take cognizance of the situation asked them to save Malik's life.