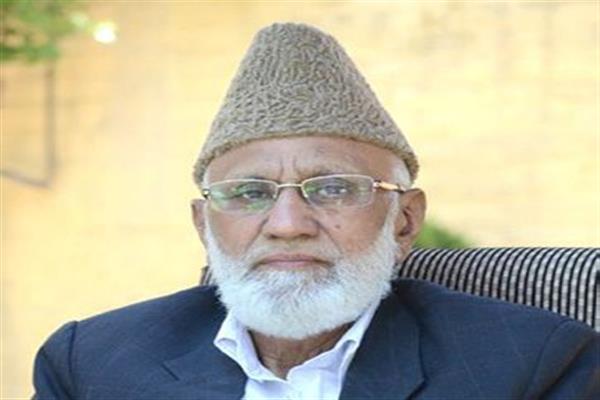 Srinagar: Tehreek-e-Hurriyat (TEH) Chairman Mohammad Ashraf Sehrai on Monday strongly condemned the slapping of Public Safety Act (PSA) on party's district presidents of Bandipora and Budgam Danish Mushtaq Malik and Tashooq Ahmed Banday  and shifting them to outside jail.
"These are illegal and undemocratic tactics and authorities are hell bent to curb and strangulate the genuine aspirations and political voice and dissent with brute force," he stated.
He also condemned the continuous incarceration of political leaders and activists including Mohammad Yousuf Falai, Abdul Gani Bhat, Sheikh Mohammad Ramzaan, Mohammad Amin Ahenger, Umer Adil Dar, Syed Imtiyaz Haider, Farooq Ahmed Shah, Ashiq Hussain Narchoor, Abdul Hajeed Parray, Nasir Abdullah, Nazir Ahmed Mantoo, Ghulam Mohammad Misger, Abdul Majeed Lone, Mohammad Hussain Waggey, Mohd Yaseen Tantray, Shakeel Ahmed Pandit and Manzoor Ahmed Ganai.
Terming it as a 'political vendetta of government', Sehrai said "despite court orders, the arresting and slapping "PSAs on resistance leaders" and shifting them to outside Valley jails is highly undemocratic act and deserves all forms of condemnation."
"The jails have been filled with innocent people and many have been shifted to jails outside the valley, he said, adding that "these repressive measures are being used as tools to punish the people for their political belief," he stated
Sehrai while paying tributes to Pulwama slain militants, said "the pain of losing loved ones can well be felt by the Kashmiris who see the dance of death and who shoulder the coffins of their loved ones almost every day and also extended his heartfelt condolences with the families of those who lost their loved."