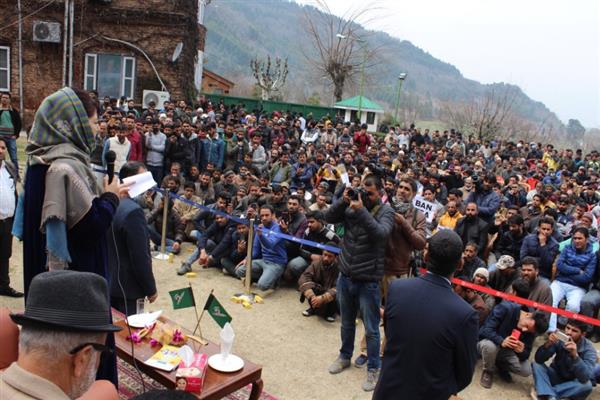 Srinagar: President Peoples Democratic Party (PDP) and former chief minister, Mehbooba Mufti has said that Kashmir youth needs opportunities, not guns.
"Choking political space and expecting achievable solution is to live in a fool's paradise." she said, while addressing the youth gathering at her house.
"Only democratic process is a way to deal with the dissent."
Hundreds of youngsters carrying placards "Youth for Peace" also showed up at former Chief Minister's house.
While seeking revocation of ban on religious organizations like Jamaat-e-Islami, she said that curbing or banning religious organizations won't help in the facilitation process.
"Our youth needs space. They need opportunities and not coffins. They need pen not gun. They need healing touch not detentions," she said in her address to youth convention.
Mehbooba further added that the state is going through the worst of times and peace can only prevail when space is given to different ideas and not by bans or curbs.
Clearing her stand, she said, "Our agenda was never to gain power, but to bridge and facilitate between people and the authorities. Our state has suffered a lot and we won't allow anyone to fiddle with the religious emotions of the people," she added.
While terming the ban on Jammu and Kashmir Liberation front (JKLF) as detrimental, Mehbooba questioned the ban on Yasin Malik's organization.
She said that steps like these will only turn Kashmir into an open air prison.
"Yasin Malik renounced violence as a way of resolving J&K issue a long time ago. He was treated as a stakeholder in a dialogue initiated by the then Prime Minister Atal Bihari Vajipayee. What will a ban on his organization achieve?," she added.
Talking about electoral processes, she said that PDP has decided not to participate in some Lok Sabha constituencies just to keep the communal forces at bay.
"People are the best judge. They know whom to vote" said Mehbooba.
Among others, Nayeem Akhtar, Safina Beigh, Aijaz Mir, Youth President Waheed Para, Nazir Yatoo and others spoke on the occasion.