Srinagar: Octogenarian Hurriyat patriarch Syed Ali Geelani Tuesday thanked Pakistan for observing "Kashmir Solidarity Day" to highlight the "oppression and suppression" against the people of Jammu and Kashmir at the hands of Indian forces.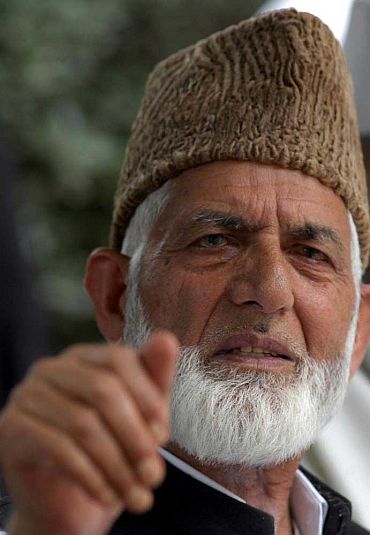 Expressing gratitude to Pakistan, its people, leadership of Pakistan administered Kashmir and the people across the globe, who organized demonstrations, symposiums, seminars and rallies in favor of people of Jammu & Kashmir for their right to self-determination and highlighted the dispute and the "gross human rights violations being perpetrated by Indian troops in Kashmir", Geelani, who continues to be under house detention for last ten yers, said that people in Jammu and Kashmir are challenging a big power and Pakistan is the only country that acknowledges "our right to self-determination and extends its persistent support".
Geelani in his message said: "We are highly thankful to Pakistan for their categorical support, and we hope Pakistan will play more effective and active role in this regard. They should activate all its embassies and other human resources to highlight Kashmir issue and human rights violations in an operative method."
The senior most pro-freedom leader, in a statement said that although "Indian atrocities and barbarism" has crossed all the limits and is continuing unabated for the last 7 decades, it is the responsibility of the UN to realize the gravity and severity of this grave and grim situation.
He said that this world body has testified "our stand that Indian armed forces under the undemocratic and unethical shield of legal impunity continue the genocide of Kashmiris, with bullets, pellets, torture, rape and humiliation".
Geelani appealed UN rights body to take serious note of this "brazen denial" of facts and pressurize India to abide by the universal obligations and fulfil long pending UN resolution on Jammu and Kashmir to pave a way for permanent peace and prosperity.