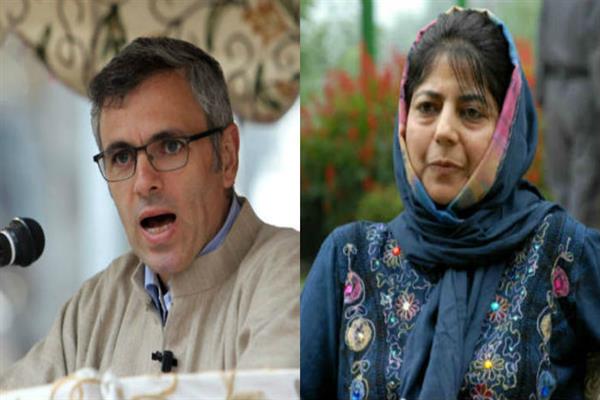 Srinagar: Peoples Democratic Party (PDP) president Mehbooba Mufti and National Conference (NC) Vice-President Omar Abdullah once again entered into an argument on Twitter after the latter alleged that former J&K chief minister Mufti Mohammad Syed used to bring people in police vehicles to attend Republic and Independence Day celebrations to show how much the situation was "improving".
"Please correct me if I'm wrong here but this isn't the first time. Attendance has been compulsory in the past as well. In fact late Mufti Sb used to use state transport/police vehicles to bring supporters to show how much the situation was improving," Mr Abdullah, who is the former chief minister of J&K, wrote on micro-blogging site twitter.
Mr Abdullah was responding to a tweet which read, "Quite silly of @jandkgovernor to issue a diktat making it compulsory for govt servants to attend Republic Day function. Anyone who does that doesn't really understand the ground reality in the state. Can patriotism be forced?"
However, Ms Mehbooba, who is the daughter of Mr Syed, was quick to respond to the tweet, saying accusing someone who is not around anymore to defend himself is beyond the realm of discussion.
"I dont mind debates Omar. But accusing someone who isnt around anymore to defend himself is beyond the realm of discussion," Ms Mehbooba wrote.
To this, the NC vice-president said that he was not debating or accusing, simply stating a fact having seen it himself at Bakshi stadium. "As for not accusing someone who isn't around to defend themselves, the day you extend that courtesy to my late grandfather perhaps you can take the moral high ground," he tweeted.