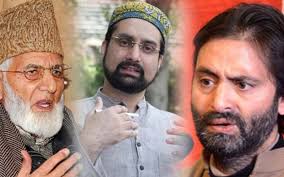 Srinagar: Reacting to the recent statement of Governor Satyapal Malik that hurriyat can hold talks without Pakistan, Joint Resistance Leadership (JRL) said that governor's statement reflects New Delhi's arrogance and high handedness with regard to Jammu and Kashmir
The JRL comprising of Syed Ali Geelani, Mirwaiz Umar Farooq and Mohammad Yasin Malik said that since New Delhi has thrust their "new deputy  to rule over J&K, killings and repression has further worsened with more than 12 civilians and 25 armed youth killed so far in October only while dozens of houses have been blasted and tens of scores of youth and activists sent to jails slapped with PSA on most of them".
They claimed that Goverenor was here on a mission from New Delhi to give the stern message to the people of Kashmir that the ruling dispensation in New Delhi is not interested in resolving the Kashmir dispute, rather does not acknowledge it and instead will maintain the status quo on Kashmir and not hesitate from further turning up the heat on people if they do not give up their struggle of self determination.
"His utterances are part of Goverenment of India's (GOI) consistent mischief of creating a false narrative on Kashmir in order to undermine its disputed nature and hence mislead people in India and the world. Through disparate analogies of oft repeated Tamilian failure in Srilanka, to open and veiled threats of "no bouquets for bullets "to pacification of "multiplexes" and "IPLs" Mr Malik wants to disenchant people from their just struggle while intimidating them," JRL stated .
JRL said that Mr. Satya Pal Malik better realise that all his attempts to intimidate and mislead people while undermining the historical facts and the context of the Kashmir dispute are absolutely futile. Kashmir issue is an internationally acknowledged dispute between India and Pakistan with people of entire J&K being the main stakeholders.
"There are dozens of UN resolutions that have endorsed the people's right of self determination to decide their future dispensation and it is this legitimate right that people of J&K are demanding and striving for. Pakistan is as much a party to the dispute as is India as the state stands divided between them," JRL stated.
"No amount of repression military might propaganda or pacification can change these facts. They are the facts for all times till the dispute is resolved either through right of self-determination or through dialogue among the three stakeholders, both beings civilized means of conflict resolution. War between the two countries as witnessed previously over the dispute, will prove disastrous,".
JRL said that let Mr. Singh be reminded that many governors, some of who were generals some administrators some politicians came and went in the last 70 years but the reality of the Kashmir dispute has stood as it is.
"In no way has it been diluted, instead on the contrary it has got intensified with the fourth generation taking up the mantle to strive for their fundamental right. So no amount of threats and coercion, propaganda or pacification will have any effect on people or their faith and commitment to their legitimate movement," JRL stated.
The JRL suggested Mr. Singh that if he wants to make a mark for himself he should convey the truth of Kashmir to his bosses in Delhi and ask them in the light of international agreements and on principles of democracy to resolve the dispute as per people's will and aspirations.
JRL reiterated the call for complete protest shutdown tomorrow 27th October as "occupation day".
JRL said the strike will also be observed to pay homage to and remember the eight young armed youth martyred by Indian forces across the valley yesterday and today.