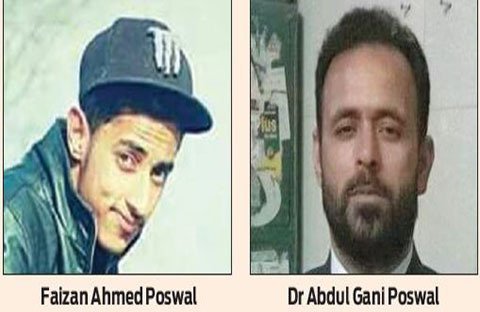 Srinagar: Dr Abdul Gani Poswal, working as a doctor, has seen many people dying before his eyes. But when he had to declare his own son, Faizan Ahmed poswal, dead, Gani said the hell broke loose and it was like the needles pierceing his heart.
Last Friday, Gani's son Faizan, a Class 10 student, was brought to the hospital where his father works, after his skull was ripped apart by the bullet fired allegedly by the government forces.
Faizan was allegedly part of a group of youth, protesting the anti-militancy operation in south Kashmir's Thamuna village of Pulwama during which one militant was killed.
Narrating the ordeal, distraught father Dr Gani said he is posted at district hospital Pulwama since 2002. He said he left for the office as usual that Friday morning.
Quoting his wife Shaheena he said later Faizan had also left home for the prayers at 12:30 pm in the local mosque.
"His mother asked him to take lunch before leaving, but he refused,' Gani said.
Soon after he left the house, the encounter started in the vicinity and youths started assembling around the house where encounter was taking place.
"They clashed with the forces who retaliated by firing bullets and pellets. Scores of youth were thus injured," Gani said, and continued, "As I assumed my duty, people who were hit with bullets and pellets were brought to the hospital and we got busy in treating them".
After a distressing day, he said that he quietly retired to his residence in the premises of district hospital at around 4 pm.
"As I was about to get relaxed, my phone starated ringing," Gani said.
"Dr Sahib jaldi wapas aajaw" (Dr come back fast) my friend shouted,".
"Little did i know who i was to going to treat? I had seen so much blood and suffering throughout the day that it seemed impossible for me to comprehend the situation now. When i reached the hospital building, I was unaware what exactly had happened. I thought there may be more patients who have been rushed to the hospital. But when I saw my own son drenched in a pool of blood, I was motionless and speechless".
The Doctor said he had seen many deaths since he started working as a medical officer, but witnessing his son's death was probably the worst nightmare he would ever thought of.
"I declared Faizan as dead," Gani said.
"I broke down. I have seen many people dying before me, but declaring my own son dead was worst nightmare a father would ever dream".
He said the family was yet to believe this hard reality that Faizaan was not with them.
Medical Superintendent District Hospital Pulwama, Dr Abdul Rashid Parra, said, that Faizan was born at the same hospital and spent his childhood in the hospital campus where he was declared dead.
"We called Gani without telling him about his son," he said
"Fate has brought Faizan to the same hospital to be declared dead where he was born,".
Faizan and his family used to live in hospital quarters since 2000 but their actual residence is in Pampore's Gosannad-Ladhoo area.
"Earlier I used to live in other quarters but since 2006 I live in the same quarters where I left that morning," Gani said who is the father of three sons.
."My wife Shaheena, who is working as a school teacher stays at home because she is suffering from the illness.  So I had not to worry about my kids. But now I have to. Death keeps no calendar in Kashmir".