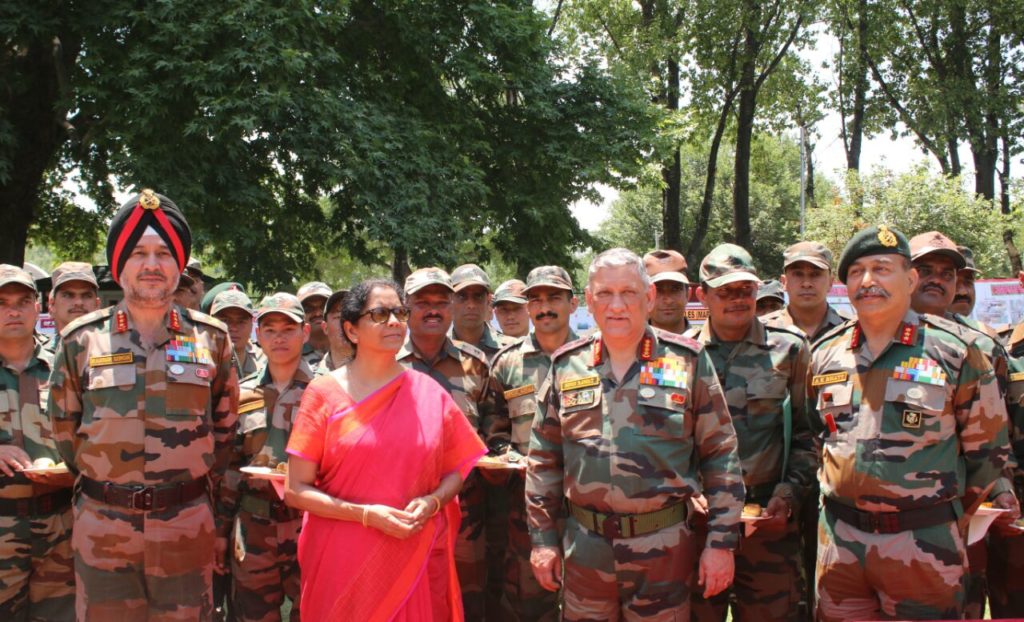 Srinagar: At a time when loud calls are being made to give army free hand to crush "separatism and militancy in Kashmir," defence minister, Nirmala Sitharaman visited Kashmir to review the overall security situation
The defense spokesman said defence minister, accompanied by the army chief Bipin Rawat visited the Srinagar based Chinar Corps where she was given an update on the latest security scenario in the Kashmir Valley including details of "counter infiltration and counter Terrorist Operations undertaken in the recent past".
Apart from Rawat, Sitharaman was accompanied by the Lt Gen Ranbir Singh, Northern Army Commander and Lt Gen AK Bhatt, Chinar Corps Commander.
She was also briefed about the security and administrative arrangements for the upcoming Amarnath Yatra on ground, the spokesman added.
"She appreciated the effectiveness of the intelligence and operational grids and commended the commanders and troops for the excellent operational successes, which has contributed significantly towards improving the security environment in Kashmir Valley," the spokesman said.
The spokesman said later in the evening Sitharaman met Governor NN Vohra at Raj Bhavan in Srinagar and discussed the overall security situation in the Valley.
This has been the second visit of the defense minister to the state after the BJP-PDP parted ways.
The BJP leaders claim that they broke the ruling alliance with PDP because 'militancy and radicalisation' was increasing in Kashmir, adding, their step will enable army to use iron fist approach towards militancy without any hindrance.