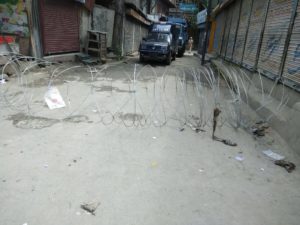 Srinagar: Clashes between two factions of Shia community in Magam town of Central Kashmir's Budgam district forced authorities to close down schools and impose restrictions under section 144 – meaning assembly of four or more people at a place should be considered unlawful.
The clashes broke out between the members of local Auqaf committee and Anjumane-Sharie-Shian on Saturday evening with each of them wanted to take the possession of the management of the main mosque in Magam town.
The clashes erupted after the court ruled that the Mosque's management should be handed over to the local Auqaf committee.
This decision enraged the Anjuman members who reportedly clashed with the local Auqaf committee members during which many people sustained injuries.
The Masjid was sealed way back in July 2017 by the government after dispute arose who will manage the affairs of the Mosque.
"After remaining suspended for a year, the court through a formal order handed over of the mosque's possession to local Auqaf Committee on 21st June this year," local said.
"The police had formally informed the leaders of the two groups about the development the night before the Mosque was handed over, but one of the parties (Anjuamane Sharie Shian) did not accept the decision".
Instead, the locals alleged the two factions, especially Anjuman, opted for agitation and spoiled every effort to wrap up the issue peacefully.
The local Auqaf committee claims that they were managing affairs and were leading the five time prayers in the Mosque including Friday prayers and sermons since the day Mosque was constructed.
Contrary to that, Anjuman led by Aga Syed Hassan – a Hurriyat leader- claimed that they were managing affairs of the Mosque and leading the Friday prayers since decades.
Apart from Friday prayers, Anjuman admits that the rest of the prayers were lead by the local Auqaf committee.
The local Auqaf committee, however, denies that Anjuman was remotely associated with the Mosque affairs, not even on Fridays, and termed the organisations claim of leading Friday prayers as "undue interference in the management of the Mosque".
"This has caused dispute between the two factions of the same community," sources added.
Following the clashes, the police increased the mosque's security and were looking for the accused who were involved in the clashes.
Two days after the clashes between two Shia factions, panic and fear could be still witnessed among the shop keepers and traders in the Magam market.
The tense situation in Magam town compelled the authorities to impose restrictions under section 144 in the town and deploy the heavy contingent of police and central reserve police forces persons.
The authorities also closed down the schools coming under the jurisdiction of Magam municipal areas till the situation turns to normal in the area.