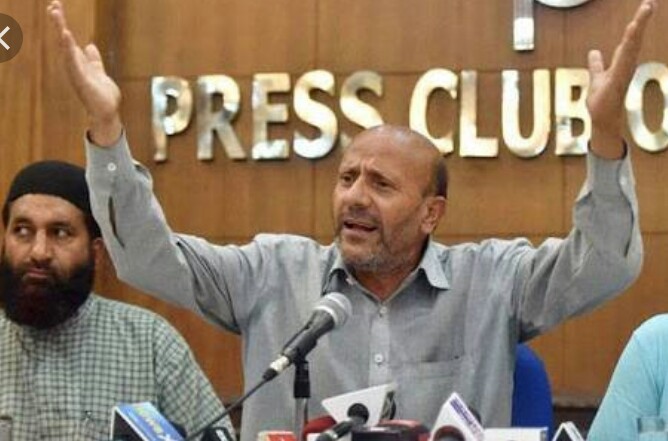 Srinagar: Awami Ithad Party Chief, Er Rasheed on Thursday asked NC and PDP to join hands with the purpose to "restore dignity" and "honor of people of Jammu & Kashmir" will boost the morale of all thoughts of Kashmiris.
"It is high time for National Conference (NC) and Peoples Democratic Party (PDP) to give up their "illogical egos" and start an era where from they should "dictate terms to New Delhi" rather becoming its "mouth pieces" Rashid said while addressing a press conference  at a Srinagar hotel.
"To restore trust between themselves and win confidence of masses NC and PDP can nominate some "prominent credible"  personality who should not be member of any house as chief minister," he said.
Engineer emphasized that the move will give Kashmiris a "genuine feeler" that NC and PDP are not doing it to get power but are sincere to "resolve Kashmir dispute" and make New Delhi understand that it cannot humiliate Kashmiri leaders from late Sheikh Sahab to Mehbooba Mufti, at timing of its own choice.
He said that he has sought appointment with both Mehbooba Mufti and Omer Abdullah to put forward the idea of their joining hands.
AIP Cheif said if New Delhi creates hurdles in NC and PDP joining hands, then all main stream parties should say no to elections till New Delhi does not agree to peaceful and honorable resolution of Kashmir dispute.
He said that both the parties have given New Delhi a free hand from time to time to "bulldoze the sentiments, rights and aspirations of people of J&K" and it is obvious that they have a silent understanding while compromising everything.
Engineer reiterated that the sudden pull out of BJP from ruling PDP is a "slap to the face of regional parties" who have been making hallow claims of fighting for the dignity of Kashmiri people.
He added that they have failed to understand the "physiological aspect" of BJP's withdrawing support to Mehbooba government.
Engineer further cautioned that the talks of abolishing the special status of the J&K should awake us all.
"Had the same incident taken place in some other part of India it would have joined all other forces to fight the moral dishonesty of BJP," he said.
While lashing out at Azad's statement of ruling out support to any political party, he said "will Azad explain us why he ruled out support to form government in J&K when the same party took strange and innovative measures to form government in Karnataka".
AIP chief said; "by showing disinterest in forming government in J&K congress has proved yet again that 'J&K and democracy' are two different things".
While questioning on Omar Abdullah's sincerity, he said "question is not who rules the state but the way Mehbooba Mufti was shown back door has exposed the credibility of main stream parties in Kashmir".
"During these years they have achieved  nothing except created confusions and have justified and facilitated the atrocities on Kashmiris".
He added that unless Omer and Mehbooba don't understand and fulfill their "fundamental duties" towards people of state it makes no difference who of them rules the state.
"Kashmiris have a right to ask both, that why they have not been able to make New Delhi soften its stand on issues like withdrawal of AFSPA, abolishing PSA, return of Power Projects, Punishing Human Rights violators or even on a resolution within Indian constitution".
He reiterated that either main stream parties must deliver or they would be treated as "root cause of all evils".
"Everyone knows that NC and PDP have no ideological differences but it is their "lust for power, ego and dictate of New Delhi that they oppose each other," Engineer sad.