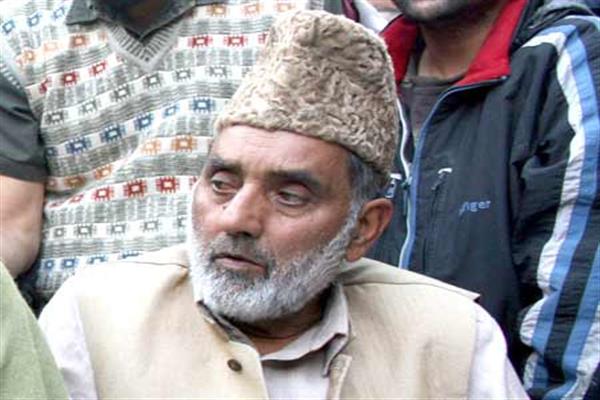 Srinagar: "Yes I take pension from the government for being a former legislator," former general secretary and senior Hurriyat (G) leader Ghulam Nabi Sumji told The Kashmir Press.
He also admitted that he had applied for the revision of pension after the amendment were made to the principal law in 2018.
"I have applied for the revision of pension as per the law," Sumji said. "It is my right".
Before joining resistance politics, Sumji served as a legislator in the state assembly from 1987 to 1989.
Sumji said he applied for the revision of pension after the state assembly passed an amendment to the principal Act of 1984, giving a good hike in pension of the retired legislators.
He is one of the few richest man among the Hurriyat leaders.
Soon after the word spread that Sumji has applied for a revised pension, the Kashmiri netizens opened flood gates of questions.
"We do not have any idea how come a leader, who fights against the system of oppression, can be part of it at the same time," a netizen wrote on Facebook.
While another wrote; "The (leaders) can't sacrifice the pension. Who will expect they will sacrifice their lives in the path of cause. You can't be a part of system and then rebel against it. What moral principals you people have? Simple greed".
Ironically few weeks ago, Sumji had fervently appealed people and resourceful person of the society to donate towards Hurriyat (G) so that it can carrying its "mission forward".
While appealing for charity donations for the Hurriyat in the month of Ramadan, Sumji had said that this is the month of patience, tolerance and sympathy and the Muslims all over the world donate generously in this month for their downtrodden brethren.
Sumji is the chairman of his faction of Muslim conference and his party is constituent of Hurrriyat (G).
The other faction is headed by professor Abdul Gani Bhat from whom Sumji parted ways long back is the constituent of Hurriyat( M) .
Sumji and Muhammad Syed Shah, brother of resistance leader Shabir Shah, were Muslim United Front candidates from Qazi's Nisars Umat-I-Islami in 1987 assembly elections.
While Shah contested successfully from Anantnag assembly constituency Sumji emerged victorious from Home Shalibugh-Nadi segment .