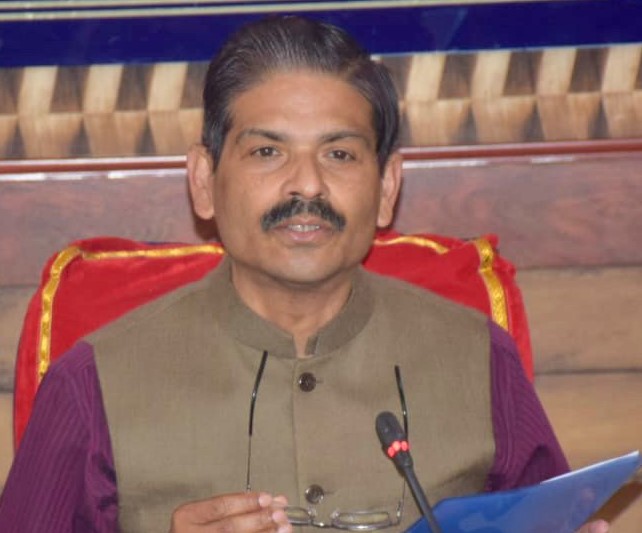 Srinagar, Oct 27: Senior IPS officer of 1991 batch and Jammu and Kashmir Intelligence chief Rashmi Ranjan Swain has been appointed as incharge Director General of Police.
According to a govt. order, Swain will take over as DGP J&K from November in addition to his own duties as special DG CID.
The order was issued by Union Ministry of Home Affairs as the incumbent DGP Dilbag Singh is due to retire later this month.
RR Swain has built a formidable reputation in the Indian Police Service over the years.
Swain's tenure as the new police chief will begin with a promise of rejuvenating the relationship between the police force and the public.
Notably, Swain served as the Senior Superintendent of Police (SSP) in both the capital cities of Srinagar and Jammu.
For over 15 years, Swain served on central deputation, demonstrating his capabilities in various roles. He even undertook a foreign posting, a privilege reserved for exceptional officers who excel in their respective fields.
Swain's journey is by his commitment to serving in challenging circumstances. From 2001 to 2003, amidst the peak of militancy, he served as SSP Srinagar. Following this, from 2003 to 2004, he served as SSP Jammu. Swain's tenure extended to other crucial roles, including SSP in Ramban, Poonch, and Leh.
Recognised for his unwavering honesty and dedication, Swain also contributed to the J&K Vigilance organization as Assistant Inspector General and Deputy Inspector General of Police from 2004 to 2006. Subsequently, Swain embarked on a central deputation, where he undertook diverse responsibilities, including a foreign posting, reflecting his exceptional capabilities.
In June 2020, upon the J&K government's request, Swain returned to J&K service. On June 15, he was appointed as the intelligence chief of J&K, succeeding B Srinivas, a 1990 batch J&K cadre IPS officer, who was posted as DGP of Pondicherry.
Under Swain's leadership as the intelligence chief, the networks that supported and fueled militancy were dismantled.
This led to the end of the menace of stone pelting, while schools and businesses in the region returned to normalcy. Swain's strategy emphasised not only eliminating militants but also identifying and bringing to justice those who provided them shelter and support.
Swain's efforts to cut off funding channels to Pakistan-sponsored terrorism played a pivotal role in reducing terrorism in J&K. One of Swain's remarkable achievements was the formation of the State Investigation Agency (SIA) in November 2021 to combat terrorism. His vision led to his appointment as the first director of SIA, which has since been actively investigating various terror-related cases, including narco-terrorism.
His commitment to fostering non-violence and rooting out fear from the hearts and minds of the people of Jammu and Kashmir is evident.
Notably, Swain has previously served as SSP in Ramban during K Rajendra's tenure as DIG and SSP in Srinagar during K Rajendra's role as Inspector General of Police in the Kashmir Zone.
As Swain will take on the responsibility of the Police Chief, his exemplary career and dedication to the well-being of the people will reflect a promise of continued commitment to justice and security in the region. kns