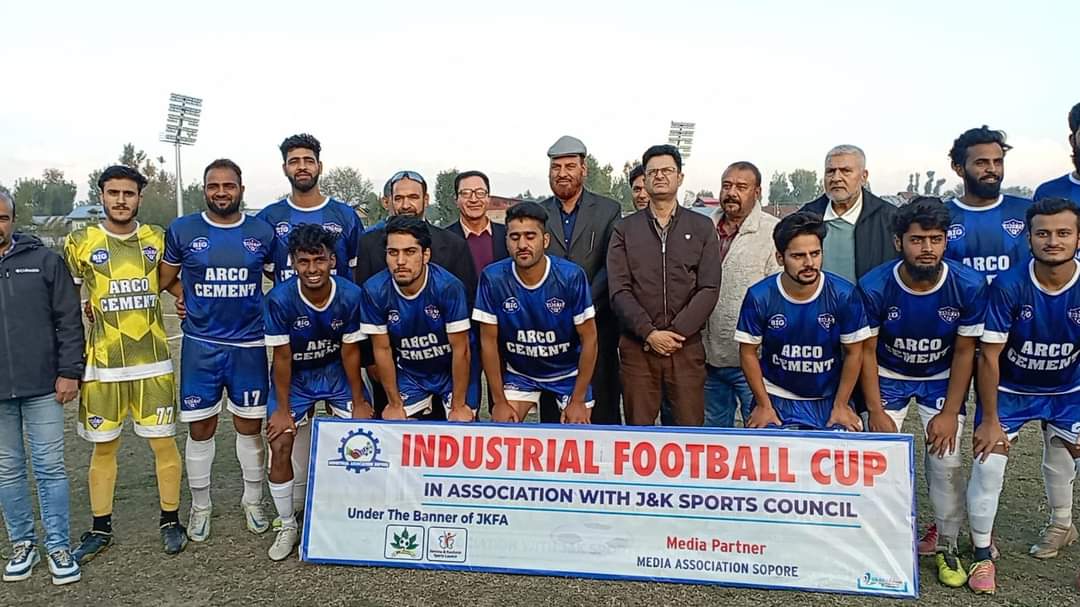 Srinagar, Oct 23: In a thrilling showdown at Khushal Stadium, Arco FC secured the championship title of the 2nd Industrial Estate Football Tournament by defeating Elites Blues FC with an impressive 4-0 win.
The match, witnessed by a spirited crowd, showcased the prowess of Arco FC's star players.
From the very beginning, Arco FC displayed their dominance on the field, keeping possession and mounting constant pressure on their opponents. It didn't take long for the scoreboard to come alive, with Sujith leading the charge with a sensational display of skills. He netted the first goal for Arco FC, setting the tone for the rest of the game.
Danish added to the excitement as he found the back of the net, giving Arco FC a comfortable lead. However, Arco FC was far from finished, as Basit showcased his goal-scoring abilities and contributed another goal to their tally.
The highlight of the match was undoubtedly Sujith, who displayed remarkable form throughout. He not only scored the opening goal but also secured his brace with a second goal, leaving the Elites Blues FC defense struggling to contain his pace and precision.
Arco FC's defense was equally commendable, with goalkeeper making crucial saves to deny Elites Blues FC any chance of a comeback. Their rock-solid defensive lineup proved impenetrable, sealing their 4-0 victory and the coveted championship title.
Arco FC's win was celebrated with jubilation by their loyal supporters, who filled the stadium with chants and cheers. The team coach's, Feroz Ahmad and Sharief U Din, expressed pride in their performance and credited their hard work and dedication throughout the tournament.