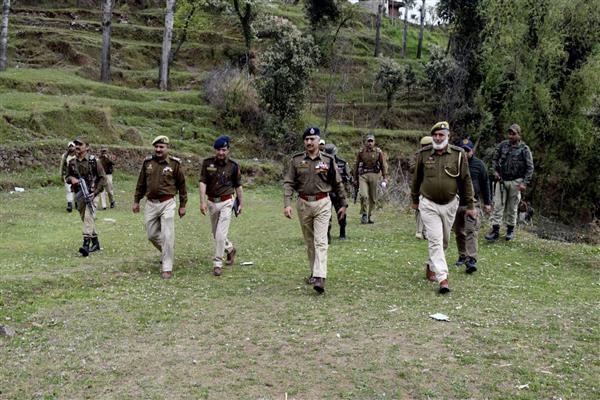 Rajouri March 22: In order to restore confidence in the General Public and to carry out area combing cum domination exercise in the area of the Ghambir Mughlan to Behrote Gali in Rajouri.
A joint domination patrol and drone surveillance of the area was carried out under the command of DIG Rajouri-Poonch Range Dr. Haseeb Mughal, IPS. DySP PC Shivender Singh Jamwal, SDPO Manjakote Zaffer Iqbal, AC Amit Kumar of CRPF, CAPT Parmodh Joshi of 48 RR, SHO Manjakote Inspr. Zaffer Amin and I/C BPP Post Ghambir Mughlan SI Mohd Afzal Khan also actively participated in the exercise.
The forces which took part were of SOG Rajouri, PS Manjakot, BPP Ghambir Mughlan, CRPF 72 BN, Army 48RR Manjakote. The domination patrol was carried out in the area BPP Ghambir Mughlan and Behrote Gali. The domination of the area and patrol started at about 1130 hours and culminated at about 1500 hours.
A general coordination security meeting of Security forces and interaction with Jawans was also chaired by DIG RP Range at Border Police Post Ghambir Mughlan, PS Manjakote.
All the forces taking part in domination patrol showed proper discipline, coordination and synergy. The officers also interacted with the General Public during the domination drive of the area, who also appreciated the role of the Jammu and Kashmir Police and Security forces in maintaining peace and tranquility in border areas of Rajouri.