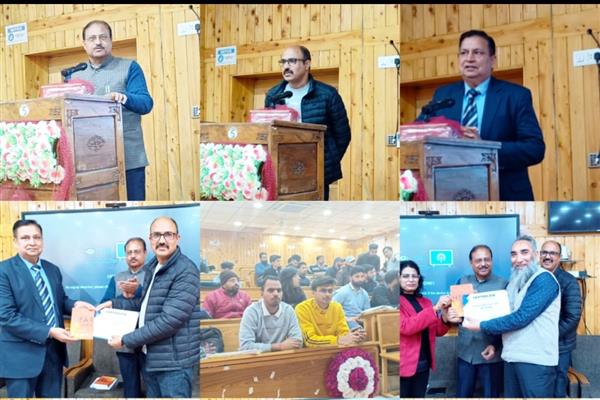 Srinagar, Mar 20: The weeklong Short Term Course (STC) workshop on Peace Education Program (PEP) organized in association with The Prem Rawat Foundation (TPRF) concluded at National Institution of Technology (NIT) Srinagar.
The workshop was aimed to explore the possibility of personal peace, and to discover personal resources – tools for living such as inner strength, choice, appreciation, and hope among the participants.
Director NIT Srinagar, Prof. (Dr.) Rakesh Sehgal was the Chief Patron, while Institute's Registrar, Prof. (Dr.) Syed Kaiser Bukhari, and Dean Students Welfare, Prof. (Dr.) Abdul Liman were the patrons of the program.
Dr. H. S. Pali (I/C EcoCult), Dr. Neeraj Gupta (I/C Counselling Cell) and Dr. Kushal M. Jagtap (Asst. Prof, EED) were the coordinators of the weeklong event.
The valedictory function was presided over by Director NIT Srinagar, Prof. (Dr) Rakesh Sehgal, while Registrar Prof. Syed Kaiser Bukhari and Dean Students Welfare, Prof. Liman were 'Guest of Honor' on the occasion.
In his presidential address, Prof. Sehgal said that the main concept of peace education is to make people aware of the importance of peacemaking and to develop a positive environment.
"They provide you a space and help you to understand both sympathy and empathy towards others. Peace education focuses on the global recognition of peace. It encourages building a sense of brotherhood and mutual respect among the people," he said.
Prof. Sehgal said the workshop provided participants the opportunity to focus and reflect on their own humanity, and their inner resources such as choice, hope, and dignity.
Institute's Registrar, Prof. Bukhari said peace as an inner experience transcends happiness; in fact, it is a beautiful and more gratifying experience than happiness.
"Peace can be found in our hearts and souls, not in any market. When our heart and mind achieve peace, there is nothing more left to attain. The basic nature of peace education is to spread self-belief and peace worldwide," he said.
Prof. Bukhari said that there is a need for more such workshops in future and NIT Srinagar administration will continue to support such initiatives on the campus.
On the occasion, Senior Volunteer Mr. R. K. Malik (TPRF) also shared his life journey with the participants and stated that there is an immense need for peace education in the world.
"From the past 35 years, I celebrate each day of happiness. When there is peace of mind in an individual, there is everything and he does need anything more," he said.
Mr. Malik said during the workshop, video excerpts of renowned author Prem Rawat's inspiring presentations delivered topics on ten themes: Peace, Appreciation, Inner Strength, Self-awareness, Clarity, Understanding, Dignity, Choice, Hope, and Contentment.
"The participants were able to understand the possibility of personal peace, discover inner resources of hope, choice, clarity, and see their innate value.
Program facilitator Mrs. Poonam Sherawat also shared various insights about the peace education initiative and its role in the present scenario.
She said the peace program has proven effective in a variety of settings including community centers, youth groups, schools, adult education programs, drug rehabilitation facilities, and correctional facilities.
Mrs. Poonam said during the workshop, participants shared their observations about what they learned; challenges faced and also discussed suggestions for improvement.
Dr. Kushal M. Jagtap presented a formal vote of thanks to Director NIT Srinagar, Prof. Sehgal, Registrar Prof. Bukhari, DoSW Prof. Liman and other dignitaries from The Prem Rawat Foundation for their unconditional support in making the workshop a grand success.
He informed that 60 participants of different disciplines from different backgrounds were selected for the weeklong workshop.
The program consists of 16 hours of workshop material focused on a selection of core themes from Prem Rawat's International addresses, Dr. Kushal said.