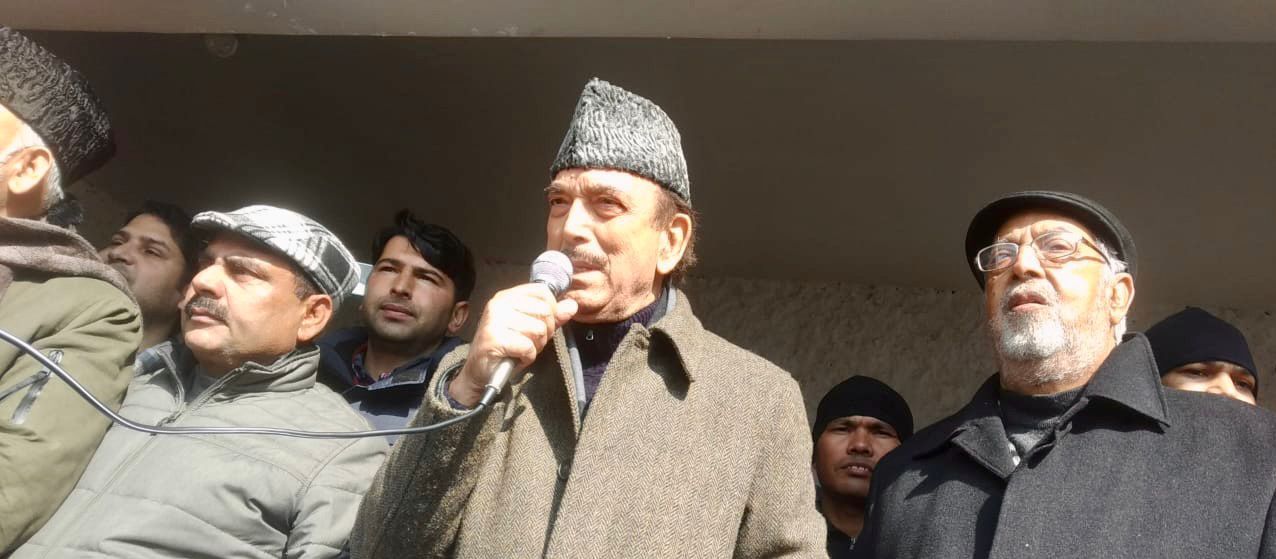 Srinagar, Mar 20: Former Chief Minister J&K Ghulam Nabi Azad Monday said that Tulip Garden was his dream project which was completed in three shifts in record period of one and a half year. He said the idea conceived with an aim to compete with other Mughal Gardens in Kashmir Valley.
"Tulip Garden was my dream project on which I worked day and night. I got it completed in 3 shifts in 1.5 years and it was a dream to make garden which would compete with Mughal Gardens," Former Chief Minister Ghulam Nabi Azad exclusively told Kashmir News Service.
Azad said today I feel happy when I see people thronging the garden from across the world. "When I was CM I had drawn a map of J&K where I kept a garden on the lines of Tulip Garden in every district," Azad said.
"When work was started on this dream project, initially 20 bulldozers were pressed into service 24×7. There was a huge mountain in place which was cut down. The soil which was excavated was put in right and left channels of the garden to make the space wide. I was visiting day and night to oversee the works", he said.
"I congratulate all officers, labourers, bulldozer operators and others for their efficient work", he said and added, "I think Tulip Garden is the first Garden in the world which was completed and thrown open for visitors in a record period of 1.5 years".
He said, "I feel happy today to see when large number of tourists are thronging the garden which was my dream project," he said and added, "When I was CM I had drawn a map of J&K where I kept a garden on the lines of Tulip Garden in every district. I identified 200 locations across J&K and kept 4 to 5 garden in very district to increase the tourisn in J&K".
He said there is a lot of potential in tourism to overcome the rising unemployment in J&K. "There is a need to strengthen tourism sector in J&K. We have lakhs of unemployed boys and girls in J&K. The government cannot provide jobs to everyone, so it is the necessity to augment tourism industry in J&K," Azad added.
Partinently Indira Gandhi Memorial Tulip Garden in the foothills of Zabarwan mountains was thrown open for people on Sunday. Lieutenant Governor J&K Manoj Sinha at the opening ceremony said that about 68 varieties of tulips will bloom in the garden this year.
"Besides 15 lakh tulips of various colours and hues, the garden, also known as Siraj Bagh, has other spring flowers, such as hyacinths, daffodils, muscari and cyclamens, on display," a senior official of Floriculture Department said and added, "Every year we expand this garden and new varieties are displayed here. This year, we have extended the fountain channel". kns