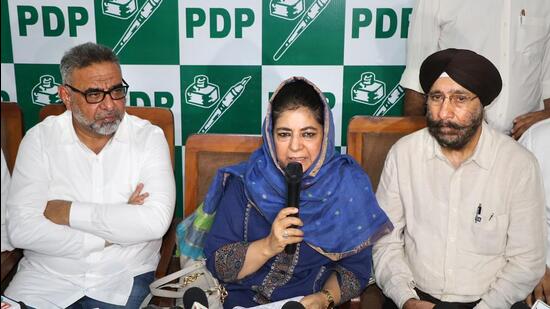 Srinagar, Feb 01: Peoples Democratic Party (PDP) president Mehbooba Mufti on Wednesday alleged that the encroachment drive launched by the government is another UAPA for the people in Jammu & Kashmir, terming the step a part of corruption practice as under the influence of this drive, the government wants money from rich and vote from the poor.
Addressing a news conference here, the former chief minister said that the drive to retrieve the land is being used as a weapon against the people of J&K to uproot them, suppress and harass them and also make them homeless.
"It is another UAPA for the people, otherwise China has encroached our 20000 sq km land, if the government is serious then let the encroached land be retrieved from China first," she said.
She said that there are some people who possess the land since Maharajas rule and their land properties are also being demolished, adding that first the government created rift between the religious communities and now it is making attempts to create a rift between poor and rich class through this drive.
However, she said that such measures cannot be stopped until and unless the people from J&K and Ladakh are not united.
"The people here in Kashmir are not being allowed to hit the streets. The people were even trying to participate in Bharat Jodo Yatra in large number, but they were not allowed. The government has created a situation where the people are not being allowed to come out. The people of Ladakh have united, but until and unless Jammu's Dogra and Kashmiri people don't get united, these measures cannot be stopped," she said.
"Jammu people reacted yesterday, but people in Kashmir can't do so as there is NIA, ED and other agencies behind Kashmir. How would it be possible that the people will come out to react over the issue," she said, adding that these drives are part of a massive corruption here as they want to get money from the rich and vote from the poor. "The poor are being asked to vote against their land and the rich are being asked to meet some officials in this regard," she said.
Mehbooba also said that if the government is serious in retrieving the land; let it start from Governor House, B B Cant here.
Asked about the budget presented today in parliament, Mehbooba said that there was nothing new in today's budget as the financial plan by the incumbent government is being made for the benefits of some capitals and businessmen. "The taxes being collected should have been used for the welfare of people, but the budget is being made for some businessmen only. The situation is such that the poor are getting poorer, the free ration quantity has been reduced to four kilograms," she added. kno