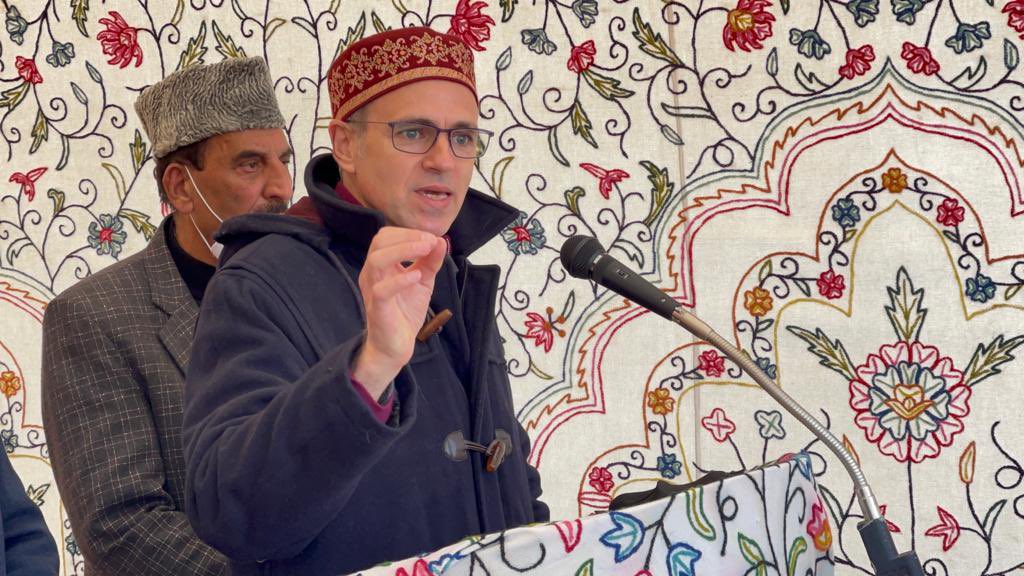 Srinagar, Jan 18: National Conference (NC) senior leader and former chief minister J&K, Omar Abdullah on Wednesday said the government is trying to hide its failures in pretext of land retrieval order, adding "The situation is going bad to worse with each passing day in J&K".
"The situation is deteriorating with each passing day in J&K. Government has failed to make J&K peaceful. Killings of innocents in Rajouri and subsequently providing arms to VDCs are ample proof of bad situation. Thus to avoid questions and divert people's attention from such grave issues, the Government has come up with directives about retrieval of state land and Roshni", the former J&K CM Omar Abdullah  told reporters here in Srinagar.
He said the Roshni scheme was never rejected by anyone and retrieving the land provided to people under this scheme will tantamount to betraying the people. He however maintained that if anywhere state land has been occupied or encroached that however should be taken back but simultaneously added, "Such directives of government is aimed to harass people as government has failed to ensure peace in J&K and thus want to divert people's attention to other issues".
To a query about participation of former J&K Minister Chowdhary Lal Singh in Bharat Jodo Yatra, Omar said "The Congress must not allow any leader to whitewash themselves using Bharat Jodo Yatra".
"The role of the leader is Rasana rape case incident is known to everyone. The Congress should ensure the Yatra is not used by such leaders to whitewash themselves", Omar said.
Notably Rahul Gandhi led Bharat Jodo Yatra is going to enter into J&K from January 19 onwards. Several mainstream political leaders including Dr. Farooq Abdullah, Mehbooba Mufti, M Y Tarigami and others have been invited and are joining the Yatra once it will reach J&K.
According to a statement later, NC leader addressed a one day worker's convention of Gurez Constituency held at the party headquarters Nawa-e-Subha, Srinagar. Party General Secretary Ali Muhammad Sagar, Senior Leader In Charge Constituency Gurez Nazir Ahmed Khan Gurezi, Political Advisor to VP Mudassar Shahmiri, Block President Gurez Anwar Shangloo were also present on the occasion. The convention was marked by good participation of workers and delegates from Gurez.
Addressing the workers, Omar said that BJP cannot shy away from elections citing excuses of weather and security situation. "The election Commission had made it clear that they have given green signal for holding elections in J&K as they are done with the preparations. They had made it clear that the ball was in the court of the central government to take a call. This explains that BJP is not ready for the assembly elections because they aren't ready to face the people as all the claims made by them on progress and development have fallen flat. Nearly four years have passed, where are those promised jobs, investments and developmental projects?," he said.
"For how long can they run from elections, one or the other day they have to hold them and face people," Omar said adding, "They will try their best to grab power through electoral fraud , manipulation and spending money. People have to decide if they want to sell their conscience fir few pennies or secure the future of their coming generations. The power in the hands of people," he said.
In his address, party General Secretary Ali Muhammad Sagar said, "There is no denying the fact that NC has contributed a lot for the political, social and economic emancipation of our brothers and sisters in Gurez. God willing, the party will continue to serve the people of Gurez. But today we are facing big challenges that require us to forge unity and look beyond petty gains. Any wrong step at this juncture is bound to have dangerous consequences for our future generations," he said adding, "It was NC that provided helicopter service, surface connectivity, colleges, PHCs and other infra projects to our brothers and sisters in Gurez. Providing an all weather tunnel, and jobs for local youth will remains high on our agenda. There is no trade off between development and our pride. We are and will continue to fight for both."
Nazir Khan Gurezi appreciated the workers for braving chill and making it to the venue. He asked the workers to intensify their underway activities aimed at strengthening the party on ground.(KNS)