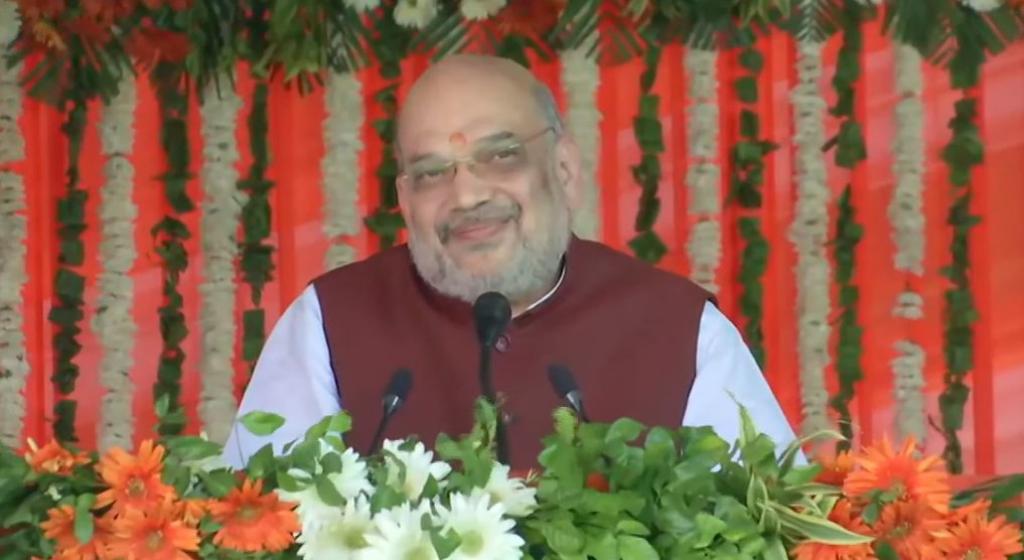 Jammu, Jan 13: Union Home Minister Amit Shah Friday said that in a high level security review meeting chaired by him in Jammu all the security agencies agreed to cast a 360 degree net to wipe out militancy from Jammu region and that the Rajouri killing case has been handed over to NIA for a thorough probe.
Addressing a press conference in Jammu after chairing a crucial security review meeting, Shah, who was flanked by J&K LG Manoj Sinha, said that all the security agencies, who have their role in Jammu's security situation, were present in the meeting. "All of us agreed to cast a 360 degree net to wipe out militancy from the region," he said,.
The Home Minister said that another decision taken in the security review meeting was that the "security grid of Jammu" will be strengthened on all fronts in a time-bound manner. "In three-months from now, the security grid will be further strengthened across Jammu," he said.
He said that he was supposed to visit Dhangi, Rajouri and meet the families of those whose loved ones were killed in January 1 and 2 attack but bad weather prevented him
The Home Minister said yesterday, the Centre handed over the Rajouri killing case to National Investigation Agency (NIA). "Jammu police will work jointly with the NIA and bring the culprits of Rajouri killings to justice. The NIA will also probe all the militancy related incidents that took place in the region in the past one and-a-half years," he said.
The Home Minister said that security agencies in Jammu are alert and committed to wipe-out terror, its ecosystem, OGW network and zero-in on those who are providing logistic support to terrorism.
To a query whether he will stay in Jammu to meet the families of Rajouri attack victims, the Home Minister said: "There is a bad weather advisory for next three days. I will come again and surely meet the families of Rajouri attack victims. Today, I spoke to each family member of the slain over phone and assured them all support. I am glad that despite losing dear ones, they are ready to fight terror with full vigour."
Asked about strengthening the Village Defence Committees in Rajouri in the wake of recent attack, he said: "The decision to strengthen VDCs was taken in August last year. This needs not to be linked with the Rajouri incident."
About a query on minority killings, he said: "Security forces are giving a befitting reply to every plan of terror. J&K LG has taken a series of steps to protect the minority members as he has the powers to do so. If we go by the figures, minority killings are far less compared to previous years."
Replying to a query about the security situation in J&K, the Home Minister said the issues needs to be seen right from the day when "terrorism was born." "I can tell you surely that situation is much better than what it was earlier. Civilian killings were reduced post abrogation of article 370."kno