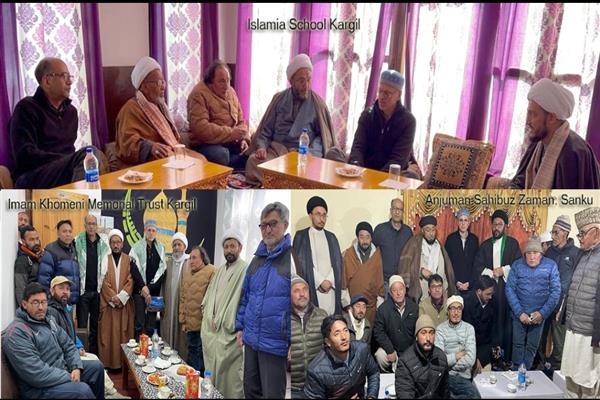 Srinagar Nov 02: The Jammu and Kashmir National Conference Party Vice President Omar Abdullah met prominent Islamic Scholars in Kargil on the last day of his Kargil tour.
The Party Vice President, who has been on a two day long tour of Kargil District met President Anjuman Jamiat-ul-Ulama Isna Asharia Shaikh Nazir Mehdi Mohammadi Sahib and other Islamic scholars and luminaries.
He also met with Chief Patron of the Imam Khomeni Memorial Trust Shaikh Mohammad Mohaqeeq Sahib and other Scholars of the trust.
Both the meetings focussed on the issues faced by the people of Kargil. Party Vice President applauded their efforts in creating synergy among diverse sections of people in Kargil. He emphasised that the realisation of unity in diversity was the key towards fighting the challenges faced by the people of Ladakh.
Earlier Omar Abdullah also paid obeisance at the revered Shrine of the Founder of Anjuman-e-Sahibuz Zaman Hazrat Syed Haidar Rizavi (RA) at Sankoo, Kargil. On the occasion , he also met with Chief Patron Anjuman Sahibuz Zaman Syed Muhammad Razavi Sahib.
He was accompanied by Provincial President Nasir Aslam Wani, Dy Political Secretary Mudassar Shahmiri and local party functionaries