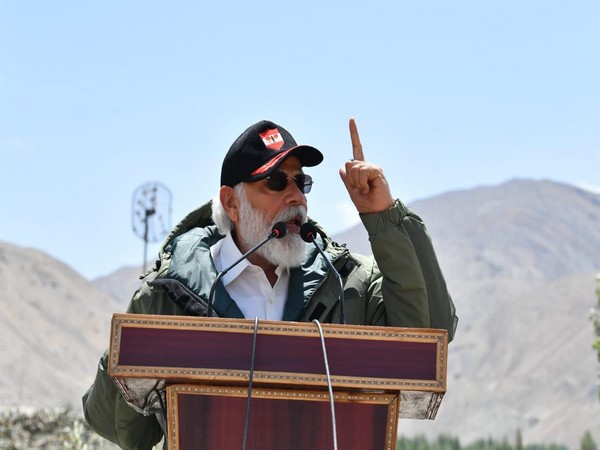 Srinagar, Oct 24: While interacting with the armed forces on occasion of Diwali at Kargil, Prime Minister Narendra Modi said it is a privilege for him to celebrate Diwali amid all of them.
Prime Minister Narendra Modi on Monday arrived in Kargil to celebrate Diwali with soldiers.
Speaking on the occasion, PM Modi said that from the victorious land of Kargil, he wishes the countrymen and the world a very happy Diwali.
PM Modi said that there was not a single war with Pakistan where Kargil did not raise the flag of victory. Diwali means 'Festival of Ending Terrorism' and Kargil made it possible.
"Our army crushed the fountain of terrorism in Kargil and people, till today remember the Diwali of the country's victory," PM Modi said.
He said that every citizen in India sleeps peacefully because of the armed forces guarding our borders. "I bow to the spirit of the Indian Armed Forces. Your sacrifices have always made our country proud", PM added.
PM Modi said that during the Ukraine war, everyone saw how India's national flag became a shield for its citizens stranded there. The respect of India has increased worldwide. This is happening because India is successfully standing against its internal and external enemies.
Referring to the armed forces, the PM said, "Just as you are protecting us at all the borders, we are working inside the country to fight evils like terrorism, 'naxalism', corruption." 'Naxalism' was a major part of it. The nation is in its grip, but today it is diminishing rapidly."
To facilitate the soldiers of this country in realising their responsibilities, PM said they are developing hi-tech infrastructure in the border areas with seamless connectivity.
"I commend the three armed forces for deciding that more than 400 types of defense equipment will not be imported but made in India. When our men fight with made-in-India weapons, they will not only will feel pride but also the element of surprise to defeat the enemy", he added.
"We never saw war as a first option. Be it the battle of Lanka or Kurukshetra, we tried to postpone it until the last moment. We are against war but there can be no peace without force. If anyone dares to look at us with evil eyes, our armed forces will give a befitting reply", PM said. kns