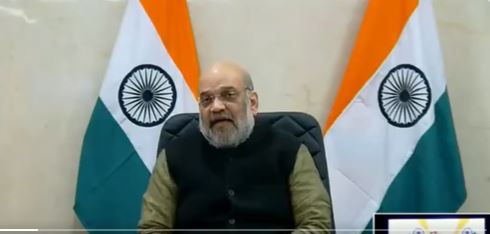 Jammu, Oct 01: Union Home Minister Amit Shah likely to end the suspense and put final stamp on the names of new Jammu Municipal Corporation's (JMC) new Mayor and Deputy Mayor for which six to seven names were send for clearance
The Union Home Minister Amit Shah's likely visit to Jammu and Kashmir from October 3 to 5, party sources said that Shah will hold a separate meeting with the probable aspirants for mayor and deputy mayor position and selected among the names, which is taking rounds after party's internal assessment system.
Party insiders said that Bharatiya Janata Party (BJP) national leadership has snatched the power of finalizing names from local leaders, who earlier claimed that Jammu will get Mayor, Deputy Mayor in few hours, after incumbent Chander Mohan Sharma asked to put his papers and resigned on September 24.
"BJP is trying to improve its image in poll bound Jammu and Kashmir by selecting educated and clean image person for Mayor and Deputy Mayor, in its stronghold Jammu. The party is considering a faces with strong educated background, who have not indulged in any internal groupism within the party," sources said.
They added that national leadership already had send independent observer to assess the profiles of sitting corporators, on different parameters including their image in public and party, acceptablity in RSS.
Sources said that names of probable candicates include Baldev Singh Baloria, Parmod Kapahi, Suneet Kumar Raina, Rajinder Sharma, Sanjay Kumar Baru, etc.
"After Amit Shah's visit to J&K is over, names for both the posts will be announced," said BJP state president Ravindra Raina.
Meanwhile, after resignations on September 24, both mayor Chander Mohan Gupta and deputy mayor Purnima Sharma continue as Acting Mayor and Deputy Mayor.
The Mayor and the Deputy Mayor are not able to sanction new works or projects and  only monitor sustainable work done in the Municipal Corporation. The important decisions will now be taken only after the new mayor and deputy mayor are elected.
However, as per legal experts, the mayor may have to resign again.
"According to municipal laws, the situation has not been clarified in the article on the resignation of the Mayor-Deputy Mayor together. According to the rule, the mayor had to resign to the deputy mayor and the deputy mayor to the mayor, but here both of them resigned together. In such a situation, the resignation of the Deputy Mayor was accepted. Now after the selection of the deputy mayor, the mayor may have to resign again.
When contacted, Rahul Yadav, Commissioner, Jammu Municipal Corporation said, "The resignation has been sent to the government. Both will remain on the post till the approval of the new Mayor and deputy Mayor. After getting the approval, the next process will start".
On September 24, Jammu Municipal Corporation (JMC) submitted their resignations after a meeting chaired by Jammu and Kashmir BJP president Ravinder Raina here.
Both Gupta and Sharma resigned voluntarily and expressed their desire to work for strengthening the organisation (BJP), Raina told reporters after the joint meeting of the party corporators and leaders. Gupta and Sharma took over their respective posts on November 15, 2018, after the BJP swept the prestigious JMC, winning 43 out of the 75 wards. The urban local bodies elections were held in four phases from October 8-16 in 2018 after a gap of 13 years. kno