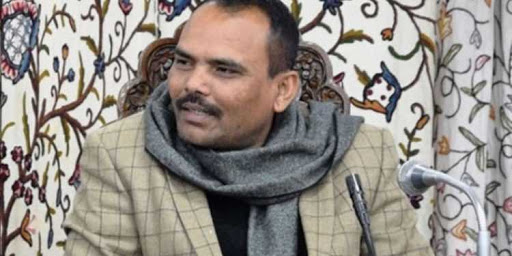 Srinagar, Sep 08: Stating that the situation comparatively with the past two decades has improved a lot in the Valley, Divisional Commissioner, Kashmir, P K Pole on Thursday said that the administration is putting every effort to bring back the classical days of Kashmir.
Talking to reporters here on the sidelines of the function at Habba Kadal, Pole said that several Kashmiri Pandit families have not left the Valley and are still living here. "I am aware of the situation in Jammu and Kashmir since 2004 and definitely, the situation has improved comparatively and the time will come when the Kashmiri Pandits will return."
However, he said that the neighboring country is persistently trying to disturb the situation here by targeting soft targets, but the security forces are giving befitting reply to them. "
It is good that the majority of the people here are now openly extending their support against them," he said.
Pertinently, Pole participated in the ceremonial celebrations of Veth Truvah at Purushyar Mandir Habakadal Srinagar. In the last two years, the ceremonial celebrations after many years started again.
The programme was organised by Sanjay Saraf, Faisal Mir, Anita Chandpuri, Sanjay Raina, Dazy Bhat and many more social activists.
Dastaar Welfare Foundation of India and Samooh Foundation have played a major role in the accomplishment of the ceremonial Pooja, a statement issued to KNO said.
Historically the river Jehlum ancient name as (Vitasta) came into existence on this day as Shiva set his trident in Neil Naag and Vitasta known as Jhelum came into existence.
"My heartfelt gratitude to Chamanlal Gaddu and Dr Promila Pandita for providing historical references and resource material to enrich this culture," Saraf said.
On this auspicious occasion of Badrpaeth Tryodashi as Mata Parvatie manifested in the form of Veth Vuthr the Vitasta River thus the offerings were made at the banks of river (Ma Vitasta) Jhelum to stop the floods in Kashmir.
On this day, the prayers are also offered on Mata Vitasta's to celebrate her birthday to bring peace, happiness, calm and prosperity for the people of the valley especially living on its banks.
Shalokas are recited and (Tamul chaut) rice flour roti with milk and water are offered to the life source river Jhelum (Ma Vitasta) and evening lamps are lit up by the banks.
People also would take morning dip in the Jhelum waters to show gratitude and respect for giving the people of the valley a year full of prosperity without floods. There is a strong belief that 2014 floods were caused as the Pooja and offerings to Goddess Vitasta were not performed, the statement said.kno