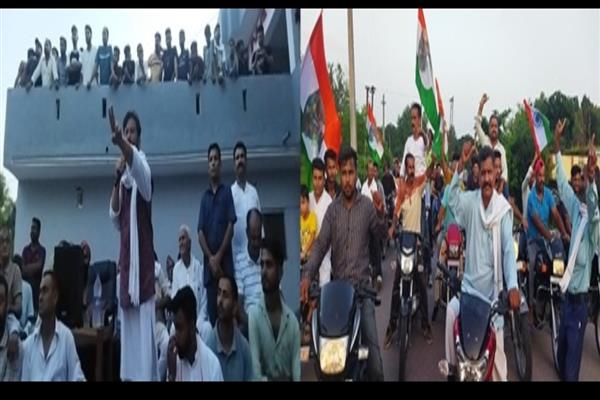 Jammu September 04: Former Member of Parliament and prominent leader in Jammu, Chaudhry Lal Singh has said Dogras cannot afford to suffer at the cost of Kashmir anymore. 
As a part of its "Jan Sampark Abhiyaan', Singh's party, DSSP, organized a massive rally at border village Korepunnu of Hiranagar constituency of Kathua today.
While addressing a mammoth gathering, former MP said that Dogras cannot afford to suffer at the cost of Kashmir anymore.
He said that Dogras have always stood for the nation and waited for 70 years fir political empowerment but the present regime shocked the entire Dogra community of Jammu province by reducing it mere into UT and annexing it with Kashmir.
Former Member Parliament from Kathua-Udhampur-Doda constituency and president Dogra Swabhiman Sangthan Party (DSSP), Ch Lal Singh today raised the demand of separate Jammu State and imposition of Article 371 here for protecting jobs, lands and properties of the local people.
We are happy that Ladakh has been given though late, it's long pending but Jammu has been put into darkness after abrogation of 370. he said.
General Secretary Dr.Hari Dutt Shishu, while addressing the rally said that all strategic positions from top to bottom have been occupied by non locals and its result is disastrous which multiplied the suffering of the Dogras.
Local officers are being demoralized by the outside higher officials but DSSP is all set to fight for the legitimate rights of Jammu.
Ex MLA Kanta Andotra, Corporators, Sarpanchas, Panchas including Sh. Bhagmal, Ex. Chairman Kathua Ch. Rajinder Singh, Sh. B.L Kandla, Deepak Jasrotia and Makhani Bandral also addressed the gathering.