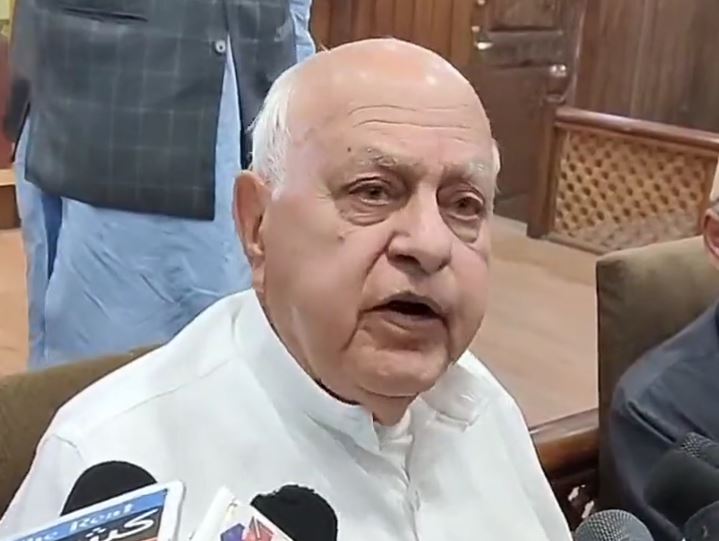 Srinagar, Aug 30 : National Conference president and Lok Sabha member from Srinagar, Farooq Abdullah on Tuesday said that struggle for restoration of Article 370 is not easy but their fight will continue.
The NC chief the restoration of Article 370 and 35A is not an easy task, but their struggle will continue. "We have to fight for it and the issue is in the Supreme Court. When will its bench be formed in the Court and when will it be heard, we will be waiting," he said.
"We all have to fight for the restoration of Article 370 and God willing one day we will definitely get it and the lost honour of the people of Jammu, Kashmir and Ladakh will also return," he said.
Abdullah while expressing hope that J&K will get statehood again says that an illegal step was taken to abolish the status of that state while people were not consulted.
About people's Alliance for Gupkar Declaration (PAGD), formed to fight against the revocation of the erstwhile state's special status, he said that people who were not given mandate during the DDC elections have left knowing that they do not exist. "Some mischievous elements are spreading that PAGD is over and their aim is to rule here openly which we will never let happen," he said.
About Gulam Nabi Azad, Abdullah said that it has been heard that he is going to form a National Party,' this is a good move and we have to see what will happen.'
On elections, the NC chief said that the government is always saying that elections will be held when the situation in Jammu and Kashmir improves, but nothing is happening so far.
"Earlier it was said that delimitation has to be finished, now it has also been over," he said.
About 25 lakh new voters to be enrolled in J&K, he said that its number may increase in future and there are fears that these people will vote only for Bharatiya Janata Party by which the BJP government will be imposed here.
On being asked If he want to fight separately during the assembly election, did the sentiments of the People's Democratic Party be hurt?, Abdullah said that "when the election is announced, then the decision will be taken by looking at the ground situation".kns