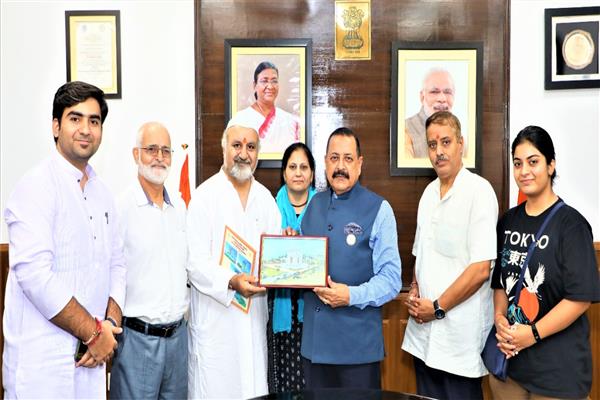 Jammu August 15: Save Sharda Committee Kashmir Regd. called on Dr. Jitendra Singh MoS PMO in New Delhi and briefed him about the ongoing Construction of Sharda Temple at LoC Teetwal Kashmir and the upcoming Sharda Divas to be held on 4 September at White line bridge at LoC Teetwal Kashmir.
The delegation was led by Ravinder Pandita, Head of the committee, who presented a model of Temple and Vision document to the minister.
Sharda Puja will be performed on the banks of Kishenganga river right on LoC at Teetwal in Kupwara district on 4th. Sept'2022, this year, the committee said., adding, every year the Committee organizes a programme on this day that marks the ancient annual yatra day to famous Sharda peeth.
Swami Nand lal koul, a kashmiri saint was the last to sit on the peeth, that holds a high place for Hindu faith, the committe said.
The Committee stressed the need for reopening of Sharda Pilgrimage and setting up and reviving the old traditional route via Teetwal and setting up of a Sharda center there.
The minister assured to take up the matter with Ministry of defence as well as UT Govt of J&K and asked the committee to prepare a detailed project.
Notable feature of the event this year was Live interaction with people those who had come on the other side of the river Kishenganga to greet members of Save Sharda Committee.
" We have a civil society across LoC comprising nearly 150 members who are working in tandem with us from here. They laid flowers on the Peeth in Nov'2016 and installed photo frame of Goddess Sharda inside peeth in March'2017. We have also received a Supreme Court judgement on preservation of Sharda peeth in 2018 and also an Order for maintaining sanctity of the peeth from DG Archaeology & Tourism in POK Govt." said Ravinder Pandita, founder of Save Sharda Committee.