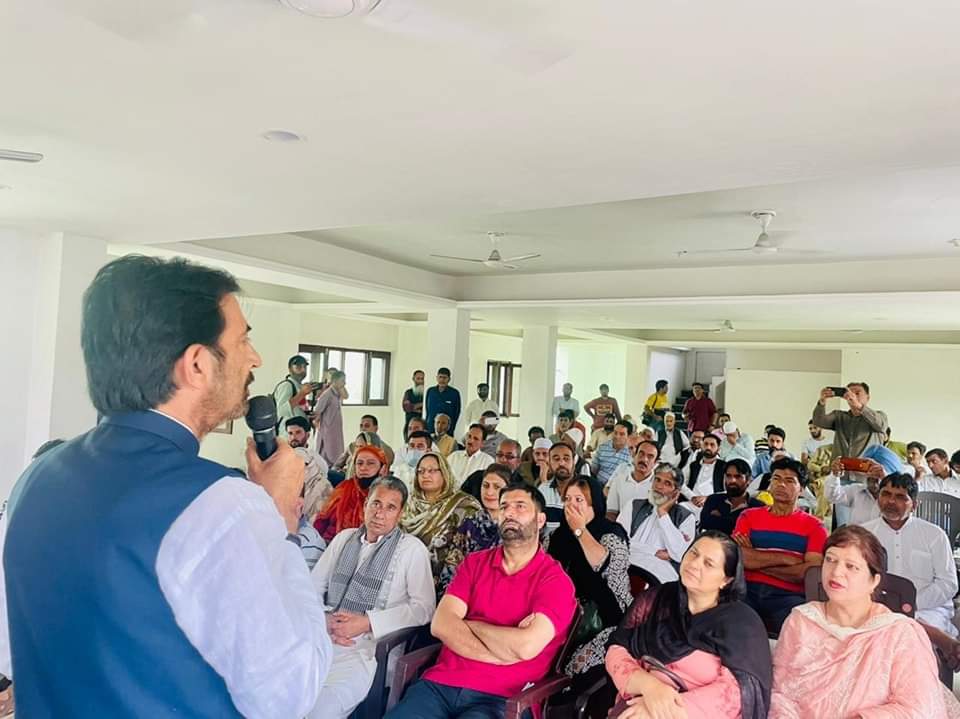 Srinagar July 21: Congress today staged strong protest against Sonia Gandhi's appearance at ED Office in Srinagar and slammed BJP's vendetta politics against the opposition especially Nehru Gandhi family.
According to a statement, senior Congress leaders, Former Legislators, DCC Presidents, Frontal Organizations and prominent party leaders led by J&K Pradesh Congress Committee (JKPCC) President Ghulam Ahmad Mir assembled at Srinagar Party Office on Thursday morning and staged strong protest against Sonia Gandhi's appearance at ED Office while terming it as vendetta politics of Modi Govt against Gandhi Family.
Former JKPCC President Peerzada Mohd.Sayeed Former Ministers/Former Legislators G.M.Saroori Haji Abdul Rashid Dar, Ghulam Nabi Monga, Mohd Amin Bhat, Gulzar Ahmad Wani besides PCC Office bearers,DCC Presidents, Frontal Organizations and prominent party workers participated and expressed solidarity with Sonia Gandhi.
Speaking on the occasion JKPCC President Ghulam Ahmad Mir slammed ED summon to Congress President Sonia Gandhi in a concocted National Herlad case which has no basis and said such vendetta politics won't deter the leadership from opposing the wrong and anti-people policies of Modi Govt towards the people.
Congress has always been at the forefront of fighting tyranny and our Party President Sonia Gandhi has fought against innumerable odd she has faced in life, Mir said.
Mir said Gandhi family have given countless sacrifices and immensely contributed to inclusive development of Nation during last 70 years, but the present Modi regime at Centre is unable to digest it , so it has started indulging in imaging tarnishing of Gandhi's under the garb of ED summons, which is bound to face humiliating defeat.
Mir said there is nothing against Gandhi family despite that BJP Govt is hellbent upon to involve them in baseless cases aiming to hide its failures on all fronts. The AJL-Young India transaction is recorded in the books of account, the return filed by the two companies in the Income Tax returns, Mir elaborated and said all that ED Wants to know can be found in the records.
Speaking on occasion Peerzada Mohd.Sayeed said BJP Govt at Centre wont' succeed in their nefarious designs it will face a defeat in their efforts to divert the attention of the people from their failures under the garb of using agencies against Congress Leadership.
Former Legislators G.M.Saroori and Haji Abdul Rashid said that BJP is creating confusion in the Country aiming to divert the attention from its failures on all fronts, so they have started crushing the dissent by using ED, CBI and other central agencies against the opponents especially Congress leadership.
Gulam Nabi Monga, Mohd Amin Bhat,Gulzar Ahmad Wani (Former Legislators) also spoke on the occasion and slammed the wrong policies of Modi Govt. The leader in unison expressed solidarity with Congress President Sonia Gandhi and vowed to fight against the BJP's vendetta and anti-people policies.
DCC Presidents Abdul Gani Khan, Fayaz Ahmad Mir,Mushtaq Ahmad Khanday, Farooq Ahmad Bhat ,Umeer Jaan, Sahil Farooq, Mir Ruvais and PCC Office bearers were present on this occasion.