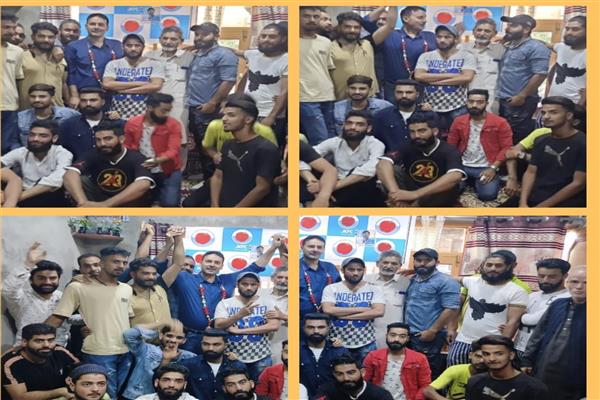 Srinagar July 17: Various political activist from Eidgah constituency on Sunday joined people's conference in presence of Irfan Mattoo.
Besides senior party leader Mohd Suleman bahat Abdul ahad nagar ,Abdul Hamid wani and mohd lateef were also present at the joining ceremony.
The new entrants who joined people's conference Arman ahmad Noor bagh Eidgah mohd Asif Mohd Rafiq bhat Ishfaq ahmad dar Altaf ahmad Shakeel ahmad Bilal Ahmad Hilal ahmad Mahd Younis Tantray Mudasir Ahmad bhat Owais ahmad dar, Javid ahmad dar .
Welcoming the new entrants into the party-fold, Irfan Mattoo impressed upon them to work earnestly for the welfare of the people and put in requisite efforts for the redressal of public grievances.
"People's conference is committed to its promises made with the people of J&K and will leave no stone unturned for the redressal of the miseries of the general public. People are now fed-up with the traditional political parties who have always neglected the genuine demands of the people. But people's conference has always advocated for an equitable development of all regions," he said.
The new entrant thanked the party leadership for providing them with a reliable political platform and also avowed to strengthen the party at grassroots level.