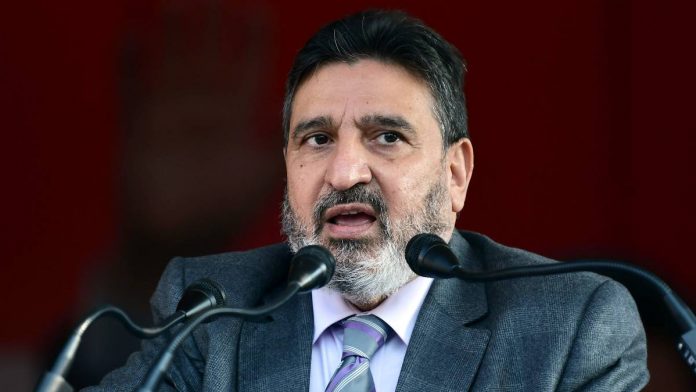 Jammu, Jul 16: Apni Party President Syed Mohammed Altaf Bukhari on Saturday was given a rousing reception by thousands of people from different segments of society in Jammu City.
Bukhari, as per a statement  was given an impressive welcome in a traditional manner by the people as well as the Party leaders and workers near Jewel Chowk, Gumat Bazaar, Vivekanand Chowk, Raghunath Bazaar Chowk, Residency Road, and Shaheedi Chowk when he was on his way with large number of Apni Party leaders and workers towards Shaheedi Chowk to address One Day Workers Convention.
The convention was attended by Apni Party Senior Vice President Ghulam Hassan Mir, Vice President, Choudhary Zulfikar Ali, Former Minister and Senior Leader, Dilawar Mir, Provincial President Jammu, Manjit Singh, Spokesperson, Sr Adv Nirmal Kotwal, Additional General Secretary, Arun Kumar Chibber, President Apni Trade Union, Ajaz Kazmi, ST Wing State President Saleem Alam, Provincial Secretary/ District President Jammu Urban, Dr Rohit Gupta, Trade Union Provincial President Jammu, Raj Sharma and others.
In his address, Altaf Bukhari thanked the people of Jammu for the rousing reception to him.
"I want to thank everyone for welcoming me to this historic city. While coming to Residency Road, I remembered the days when it was the heart of Jammu. However, they have broken it into pieces. We have seen our childhood in this Residency Road. But this Govt has worsened the condition of Residency Road which is very unfortunate. Unfortunately they claim that they represent the aspirations of Jammu and its people. HOwever, it does not seem they really represent Jammu in true sense. If you go out and see the condition of Historic City and popular Residency Road, you will find the truth," he said.
Whether the Jammu people had given mandate to them to end the 100 years old Darbar Move or to end the business of Jammu?, said Bukhari in his address expressing serious concern over the plight of Jammu people with poor business, infrastructure, scattered garbage, poor drainage system and other basic amenities.
He criticized the BJP for misleading the people with emotional sloganeering while saying that "They have played with the emotions of people and destroyed the splendid Raghunath Bazaar; Jammu's business and its tourism sector."
He said that the direct train to Katra from other parts of the country has affected the business very badly and no effort was made to promote tourism destinations of Jammu.
He said that the BJP would claim that Jammu was facing discrimination due Art 370 and Art 35A and accordingly they abrogated the special status claiming that the discrimination would end to fulfill their 60 years old slogan.
"Have you witnessed any positive change after August 5, 2019 in Jammu? However, today you are witness to the situation which has turned bad to worse in Jammu City. Jammu has become backward and youth have come on the roads. At the time, when I am speaking here in the Convention, our youth Finance Department's Account Assistants, aspirants of Sub Inspectors of J&K and daily wagers are protesting for their genuine demands."
He said that "If someone was involved in leaking the Sub Inspector's papers, why the entire list was cancelled. It is not justified."
He again cornered BJP in its stronghold and questioned whether BJP did justice with the people of Jammu.
"No absolutely not. It has not done justice with the people of Jammu City, Jammu East and Jammu West. Had the people of Jammu given votes to BJP for this situation?" he asked.