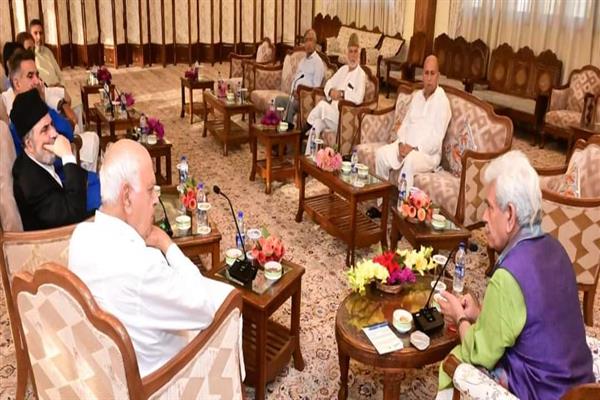 Srinagar, Jun 29:  Lieutenant Governor Manoj Sinha Wednesday invited political leaders of various parties over a high- tea meeting to discuss ways and means for making the Amarnath pilgrims a grand success.
This is for the first time that LG Sinha reached out to J&K politicians seeking their support for making the annual pilgrimage of Amarnath a "grand success"
PDP chief Mehbooba Mufti, however, skipped the meet on the pretext that "high-tea amid prevailing situation was not its priority." Peoples Conference (PC) Chairman, Sajad Gani Lone also couldn't attend the event as he was apparently out of town.
The meeting was attended by National Conference (NC) president, Dr. Farooq Abdullah, former Member of Parliament Muzaffar Hussain Beigh, Jammu and Kashmir Pradesh Congress Committee (JKPCC) president, Ghulam Ahmad Mir, Apni Party president Syed Altaf Bukhari, Bharatiya Janata Party (BJP) J&K unit president, Ravinder Raina, CPI (M) leader, Muhammad Yousuf Tarigami, Peoples Democratic Front (PDF) chief, Hakeem Muhammad Yaseen, Awami National Conference (ANC) senior vice president Muzaffar Ahmad Shah and JD (U) J&K head, G M Shaheen.
During the meeting, the Lieutenant Governor discussed the conduct of Amarnath yatra, commencing June 29.
Sinha as per the sources sought suggestions from the participants with regard to ensuring peaceful conduct of the yatra. The meeting lasted for nearly one hour in which the arrangements put in place and steps taken for the pilgrimage were shared with the leaders.
"The leaders have informed the meeting that the people of Jammu and Kashmir have always supported and cooperated to ensure smooth conduct of the yatra," sources said, adding that the leaders also apprised the Lieutenant Governor that the instead of the government, its people who have extended the support to the yatries whenever any accident or incident took place here.
The participants have demanded that the civilian angle needs to be looked into as the local populace should not be forced to suffer during the yatra, they said. Singh as per sources privy to the meet, told KNO that LG Sinha sought cooperation of Politicians for taking UT to new heights of development and peace while bridging the gaps. Talking to reporters after meeting LG, JK Apni Party chief Syed Altaf Bukhari said that the meeting was all about seeking support from Political leaders over making the Yatra a successful and peaceful affair. "We told him that every Kashmiri is in favour of peaceful Yatra as pilgrims have been our guests since past so many decades. We, however, urged LG to ensure Yatra doesn't cause any harm to local civilian population on highways and other routes," he said.
Speaking on the occasion, Congress chief G A Mir said that he told LG that locals of Kashmir have always supported and welcomed the Amarnath pilgrims and in case of emergency, locals were the first to help the pilgrims in need. "We expressed our concern over the reports that local commuters travelling on highways are facing some difficulties and urged LG this shouldn't happen," he said.
J&K BJP chief Ravinder Raina said that LG sought collective support and cooperation from political leaders for making the Yatra a grand success. "All leaders assured full cooperation with the LG and told him that Amarnath Yatra is a traditional thing happening since decades and this time also, it will be make a peaceful affair," Raina said.
ANOTHER MEETING after 10 DAYS OF YATRA: LG
J&K LG Manoj Sinha said that he held a meeting with senior political leaders to discuss arrangements and management of Amarnath Ji Yatra, at Raj Bhavan here. "I observed that sacred pilgrimage strengthens our faith in the goodness of mankind & its successful conduct is responsibility of every citizen of J&K UT," he said in a statement issued to KNO. "Amarnath Ji Yatra is a reflection of our composite culture and people belonging to all the faiths are contributing to make it successful."
The LG said that all the senior leaders in the meeting speaking in one voice observed that Shri Amarnath Ji Yatra is like a big festival, a celebration of Kashmiriyat for common man of J&K and each & every citizen of UT will ensure warm hospitality & comfort of the pilgrims."
He said that the senior leaders appealed to the people for their continuous support and assistance in the conduct of the Yatra, which is pride of Jammu Kashmir and reflection of unity in diversity. "The senior leaders also observed that Yatra is a vital part of J&K's economy and livelihood source for a large number of local people," the LG said. The Lt Governor also apprised the meeting about the arrangements put in place for Shri Amarnath Ji Yatra-2022, besides special places identified at all Yatra Camps for selling local products, including famous art and handicrafts of Jammu Kashmir.
"All the senior leaders of prominent political parties of J&K put forth their views and suggestions for the smooth and successful conduct of Shri Amarnath Ji Yatra,"he said, adding that "A similar meeting would be held after 10 days of Yatra".kno