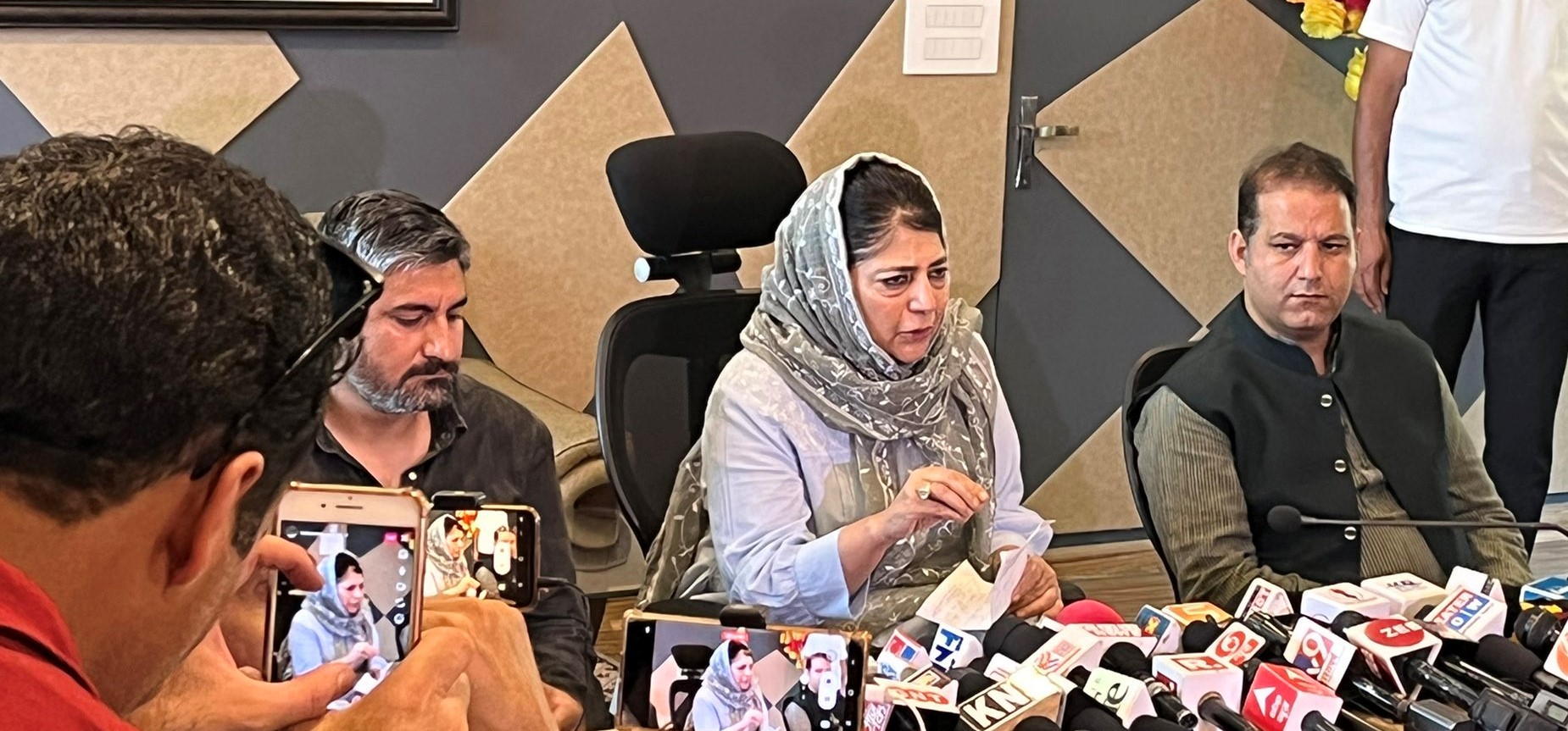 Srinagar, Jun 25: Peoples Democratic Party (PDP) president and former chief minister, Mehbooba Mufti on Saturday asked people not to lose hope; else the situation in Jammu and Kashmir would be made worse than Gaza here.
Addressing a press conference here at her Gupkar residence, Mehbooba, said that the educational institutions are being attacked here now as the government has come up with an order, directing closure of the educational institutions run by Falah-e-Aam (FAT), an affiliate of banned Jamaat-e-Islami, schools functioning on state lands and other things.
"Is Jamaat-e-Islami a criminal organization? Do they give arms training in schools? These schools are teaching students as per the syllabus issued by the government," she said, adding that such attacks are aimed at snatching education as well as push the lakhs of people to the wall.
Reacting over the statement of Lieutenant Governor, Manoj Sinha, Mehbooba said that it is being told that the electricity cannot be provided free from now onwards, but the fact is that people here have always paid whatever they have been supplied.
"We are paying for whatever is being supplied to us. The electricity generated from Kashmir is being supplied to many other places and instead of returning our electricity, we are being told no free electricity shall be provided for which they are already paying," she said.
About the recent encounters, she said that the local youth picking up guns are being killed every day here, which indicates that the recruitment of local youth is high.
"I want to appeal to the people to stop joining the armed struggle as we need you here. These people (security forces) are being paid for these operations," she said.
"It seems that Amarnath yatra is being conducted for the first time this year. These pilgrims are our guests and people here welcome the yatries. There is no adverse situation for them," she said.
Furthermore, Mehbooba said that the employees are being thrown out of services on the charges of corruption and militancy without even proving the allegations. "
At present the situation is different, but people must not lose hope; the situation here would be made worse than the Gaza strip. The way properties are being seized seems that our situation would be worse than what Israel has done with Gaza," she said.
However, Mehbooba refused to comment registration of nine FIRs against Jammu and Kashmir Liberation Front (JKLF) chief, Muhammad Yasin Malik in 1987 by saying that she doesn't want to go into the past.kno
News Agencies add
Mehbooba Mufti also appealed to Islamic leaders and scholars of Kashmir to announce through their sermons that Kashmiri Pandits are our own people, so that attacks on them won't take place.
Mehbooba said that no attack on Kashmiri Pandits was carried during her tenure as Chief Minister and still they were paid seventeen months salary without going attending their duties.
She said that Islamic scholars and leaders in Kashmir should announce through their sermons that Kashmiri Pandits are our own people, so that attacks on them won't take place.
She added that jobs of the people of J&K are put on sale and land is prioritised and given to security forces first.
She said that all small and big contracts are given to outsiders including the construction of two AIIMS institutes in J&K.
Replying to a query about Amarnath Yatra, Mehbooba said that an atmosphere has been created as if an attacker is coming to attack.
"Kashmir is known for its hospitality and we have been hosting Amarnath pilgrims for many years. They are our guests and they will always be welcome here," :he said.
She also said that the government is sacking employees in the name of corruption, but the biggest corrupt are these people who are buying MLAs in Maharashtra and Assam.
"We have also sacked corrupt employees in our tenure, but let the court first decide if allegations against them are true," she added.