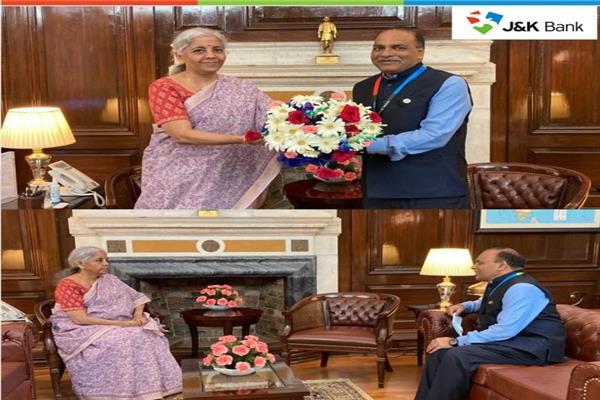 SRINAGAR, JUNE 21 : MD & CEO J&K Bank, Baldev Prakash, today called upon Union Finance Minister Nirmala Sitharaman in Delhi.
On the occasion, Finance Minister directed the Bank to continue its mission of financial empowerment.
The Bank has been playing its role well in the development of J&K, Ladakh and other parts of the country. All its current efforts must match the scale of challenges people face economically, she said.
Earlier, MD Baldev Prakash thanked the Finance Minister for her valuable time and apprised her about Bank's current position. He reiterated the Bank's commitment to work for Union Government's vision of equitable development and inclusive economy, especially in Jammu and Kashmir.
On the occasion, he gave an overview of the Bank's sustained focus on nurturing entreprenuership and employment generation through a range of Government's flagship credit schemes. "We were ranked among top 4 banks for implementation of PMEGP in the country", he said.
He also briefed the Finance Minister about the Bank's strategy to increase its business by providing best and latest services to the people besides plans to improve its functioning.
"Given the kind of measures that have been taken to improve the corporate governance, J&K Bank is today one of the most trusted and transparent financial institutions in the country", he further said.
Wishing the MD & CEO well in his efforts and initiatives, the Finance Minister urged Baldev Prakash to keep the Bank's institutional focus on making youth economically self-reliant.