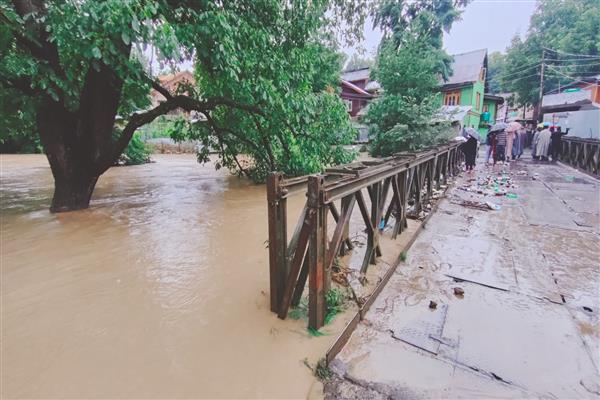 Pattan, June 22: Incessant rains over the past two days in the Kashmir valley has created flood like situation in several villages of Baramulla district, reports said here in Wednesday.
Reports said that several villages including Gundbal, KP Payeen, Khasipora, Khore and Hanjiwara Trikolbal in Pattan area have been partially submerged due to flood like situation in these areas.
They said that the flood like situation has created panic among the residents as many residential houses are at the brink of getting submerged as flood waters have breached Ferozpora Nallah in the area.
They added that the water level is continuously increasing in Ferozpora Nallah, which has created flood like situation in the area and many villages have also been partially submerged.
Reports said that people in Gundal, Hanjiwera and Trikolbal have left their houses and have moved to safer places as water started entering their houses.
Meanwhile, SDM Pattan Syed Faheem said  that they have reached to the spot and the water level in Ferozpora Nallah is increasing alarmingly.
He said that police, flood control and revenue department are keeping a close eye on the situation.
Faheem added that the rescue operation has been launched and their first priority is to save human lives, while men and machinery have also been pressed into service.kns