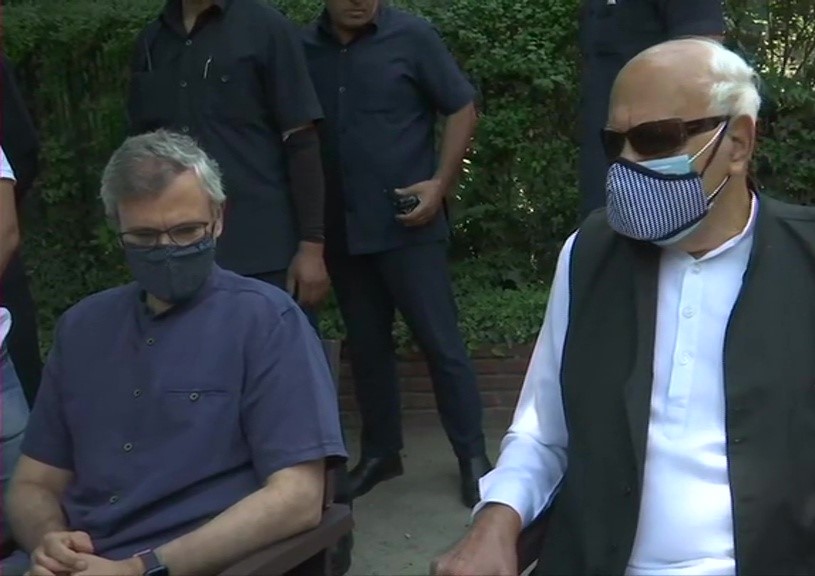 Srinagar June 10: Jammu and Kashmir National Conference President, Member of Parliament Dr Farooq Abdullah and Vice President Mr. Omar Abdullah on Friday paid glowing tributes to Party stalwarts Mirza Muhammad Afzal Beg and Khwaja Ghulam Mohi Ud Din Shah on their 40th and 18th death anniversaries respectively.
In his tribute to Mirza Mohammad Afzal Beg, Dr Farooq said, "An ardent ally of Sher e Kashmir in his struggle for the restoration of people's rights and honour, Beg sahib played a defining role in the realization of progressive and pro poor objectives of National Conference. A commanding figure in Kashmir Politics, Beg sahib was an astute politician endowed with numerous virtuous qualities. He will be remembered for his heroic struggle towards alleviating the suffering of the people of J&K by contributing to the land to tiller reforms and the abolition of big landed estates. I pay my earnest tributes to him on his death anniversary. May he be bestowed with the highest echelons in Jannah."
Paying tributes to Khawaja Ghulam Mohi Ud Din Shah, Party President said, "His association with National Conference and Sher e Kashmir was underlined with unquestionable loyalty. He played a pioneering and crucial role while serving the party and the people of J&K in various capacities; a great mind and an exemplary statesman; he was driven into politics by his resolve to serve the people of J&K. He played a key role in the framing of various pro peasantry and pro poor legislations. An institution he was in himself. I pay my tributes to him on his death anniversary. May almighty bestow upon him the highest echelons in Jannah."
Omar Abdullah while paying tributes to Mirza Muhammad Afzal Beg, and Khwaja Ghulam Mohi Ud Din Shah said, "The contribution of both the party stalwarts in scripting a glorious era of service and sacrifice would go down in the history as laudable illustration of statesmanship and leadership. The National Conference firmly stands on the bedrock of service and sacrifice of such great visionaries as late Beg Sahib and Late Shah Sahib; I pay my earnest tributes to them and pray for eternal repose to their souls. May the Almighty grant the highest stations to the duo in Jannah."
Among others Party's General Secretary Ali Mohammad Sagar, Additional General Secretary Dr Sheikh Mustufa Kamal, Provincial President Nasir Aslam Wani, Party Treasurer Shammi Obeori, Chief Spokesperson Tanvir Sadiq, Senior leaders Choudhary Muhammad Ramzan, Mian Altaf, AR Rather, Muhammad Shafi Uri, Mubarak Gul, Sakina Itoo, Gh Ahmad Shah, Shameema Firdous, Party's Members of Parliament Muhammad Akbar Lone, Hasnain Masoodi, Zone Presidents Ali Mohammad Dar, Dr Bashir Veeri, Javed Dar, Muhammad Syed Akhoon, Gh Mohiudin Mir, Peer Afaq, Altaf Ahmad Wani, Ab Majeed Larmi, Dr Sajad Uri, Showkat Hussain Ganaie, Showkat Mir, Imran Nabi Dar, Salman Ali Sagar, Sara Hayat Shah, Ahsan Pardesi have also paid glowing tributes to the veteran leaders on their death anniversaries.