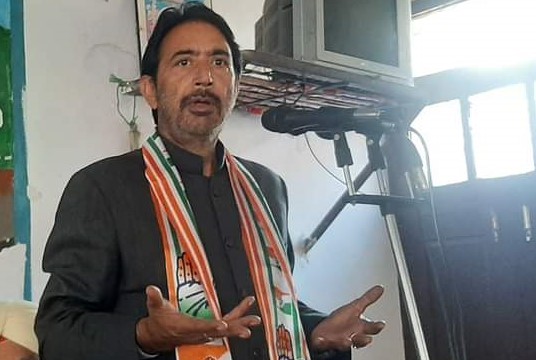 Srinagar June 10:The Jammu and Kashmir Pradesh Congress Committee (JKPCC) Friday expressed anguish over the current situation while blaming the BJP Govt for failing to stop the communal hatred in the country.
The Party also said the law is equal for all and no one is above the law, adding, BJP regime is required to take stern action against all those fringe elements spreading communal hatred and targeting religions in the country to vitiate atmosphere of peace,but unfortunately they are given free hand.
In a meeting of DCC Presidents and Senior Party functionaries of Kashmir ,J&K Pradesh Congress Committee (JKPCC) President Ghulam Ahmad Mir termed the current situation as extremely unfortunate and said fringe elements are spreading communal discord without any fear.
Mir said law is above every individual or group, some fringe elements who are given free hand are out to destroy the harmony and unity in the country to serve their vested interests, which has to be rejected by every section of the people living in the country. It is very sad that no action is being taken action against such elements, which is responsible for bringing bad name to world's largest democracy (India).
Mir said India is known for its composite culture and religious harmony, but the fringe elements are hell bent upon to divide it on religious lines. The irony is that Govt is not taking action against these elements, with the result, the atmosphere of communal harmony is disturbed, besides the attack on particular religion by some BJP goons during their TV shows and in public reflects the inability of the Govt to contain such incidents.
Congress Party strongly condemn the elements spreading hate and targeting religions and urge upon the Govt to take stern action against them to ensure that the atmosphere of peace is not damaged.
Those who were present in the meeting included PCC Vice President Haji Abdul Rashid Dar, Gulzar Ahmad Wani Former Legislators, PCC General Secretaries, Sdr.Surinder Singh Channi,Shameema Iqbal,Secretary Abid Kashmiri, DCC Presidents Abdul Gani Khan,Imtiyaz Parray,Fayaz Ahmad Mir, Mushtaq Ahmad Khanday,Farooq Ahmad Bhat, Sahil Farooq,Umer Jaan,Mir Ruvais(W.DCC President) and various other party leaders and block presidens including frontal organizations.